Back
YAY! We have a great upcoming deal that you can get with those Vaseline Printable Coupons for $2 off that I posted earlier this week! Check out all of the current Vaseline Coupons to find all of the best deals and coupons for Vaseline Products!
Target will have the Vaseline Spray & Go Moisturizers in a Unilever Gift Card Deal where you will get a $5 Gift Card when you buy 3 Unilever Items. Remember that with Unilever products, you can only use 2 "like" coupons.
They will have Vaseline Spray & Go for $5.99 and the Dove Advanced Deodorant for $4.89 and there is a $2 Coupon that you can print to go with it.
If you buy 2 Vaseline Lotions and 1 Deodorant, you will get all of them for $5.87 or only $1.96 each after the coupons and Gift Card!
[pl-deal id='234963′]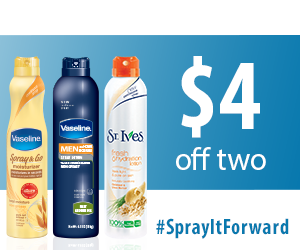 The coupons are for $2 off Vaseline Spray & Go Moisturizer, Vaseline Men Spray Lotion, or St. Ives® Fresh Hydration Lotion and you will get 2 when you share it and a second one if you share it with more than one person!
When one friend signs up for this offer, you'll receive an additional $2.00 off your next Vaseline®Spray & Go Moisturizer, Vaseline® Men Spray Lotion or St. Ives® Fresh Hydration Lotion purchase. *If you're new to using our digital coupons, you may be prompted to download coupon printing software from Redplum.
This coupon is going to go fast, so hurry and print yours out now!
Don't forget to get all the best Printable Coupons today, check out our Printable Coupons Page!
Thanks, Totally Target!