Check out this Adorable Gymbore Baby Sale Going on right now. You can save up to 40% off Everything for Baby! They also have All New Adorable Baby Styles priced at $15 or less!!!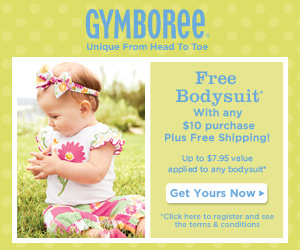 And don't forget that when you Sign Up Here you can get a Coupon for a FREE Baby Body Suit with any $10 or more Gymboree Purchase!
IMPORTANT: The link for the FREE Body Suit only works once per computer so Make sure you Register and Print Your Coupon right away!
That means it's a great time to shop the Baby Sale at Gymboree because you can get 40% off, Items like this Strawberry Body Suite for Girls are only $15 and you can get a FREE Body Suit! I have several baby showers coming up so I am thinking I can grab some really great gifts by stacking the FREE Body Suit Coupon and the Baby Sale going on this weekend!