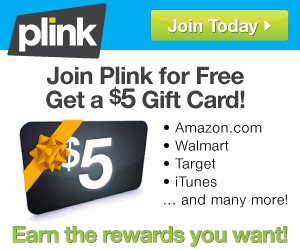 Get a FREE Gift Card worth $5 when you Join Plink.com for FREE!  It's a win-win.  You can get gift cards from places like Amazon.com, Home Depot, Walmart, Facebook and more.
After you join you can earn cash and rewards for eating and shopping at places you go already. Â Plink is a registered card program that allows you to earn Plink Points and other online rewards for dining out and shopping offline. You select where you want to eat or shop, and Plink activates those offers on your credit or debit card. It's an easy way to score some great rewards!
You can sign up and start earning in 3 easy steps:
1) Sign up at Plink.com – it's free!
2) Register your credit or debit card to get your $5 Gift Card (This is a great time to use a prepaid credit card with a low limit.)
3) Get rewards when you shop & dine out at your favorite places.
Sounds easy! Â You are under no obligation to do anything once you join and get your FREE gift card. Â So get signed up and see what it's all about. Â Then you can decide if it is worth it for you.