We recently spent a week at the beach and as a Mom of 3 I've learned a few things over the years that have literally been life savers when it comes to spending more than just 30 minutes at the beach without the kids whining about being hot, tired or hungry!
This year I thought I would share some of my favorite Beach Hacks Every Mom Needs to know!
BONUS: Download our Ultimate Beach Checklist to help you pack and make sure you don't forget a thing! It's completely free when you sign up for our Weekly Newsletter!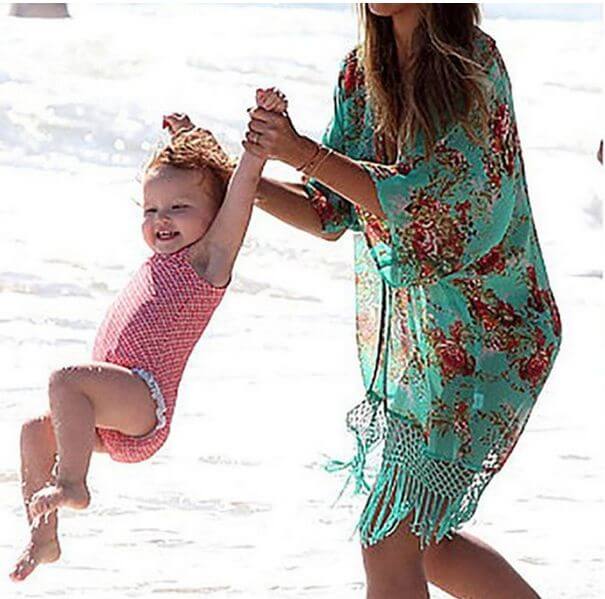 One of my Favorite Beach Items for Moms are these Simple Coverups you can get on Amazon for around $10-$15 They are great for playing with kids on the beach without getting too hot or worrying about ruining your nice clothes.
These are also another Favorite of mine! They come in 7 different color all for under $10 shipped and they are great for walking to and from the beach!
10 Beach Hacks for Moms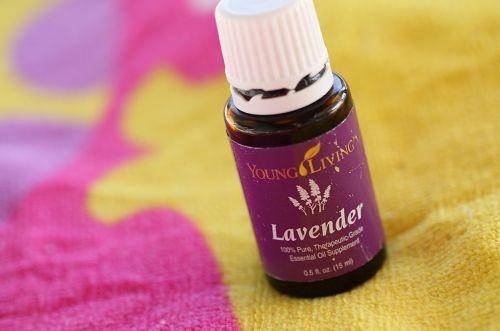 Bring Along the Lavender
Anytime we are in the sun I always bring along my lavender, this is one of my favorite oils for healthy skin and my go to oil when we have had a long day at the beach! It's great for relaxing the kids at bedtime and you can also make this After Sun Lotion to help keep their skin refreshed & healthy!
You can get a Great Deal on the Young Living Starter Kit Here. I'm offering a $20 Amazon Gift Card to New Members + Some great Resources!

Invest in a Tent!
While this doesn't seem necessary at times this has been one of our favorite investments, especially when you are doing the beach with younger kids. You can buy a Small Inflatable Pool to go under the tent so little ones can play in the water in the shade, or just throw out some blankets and it's a perfect place for a picnic or snack out of the sun. Our little guy would nap every day on the beach under the tent so it was a huge lifesaver that allowed us to spend more time at the beach as a family.
At first I was a little uncertain about investing in a tent, I thought they were expensive but the cost to rent an Umbrella and 2 chairs where we were was $30 per day, we paid just $90 for our tent at Sam's Club (Similar to this one) and since we spent 7 days at the beach we actually SAVED money and had more room for everyone!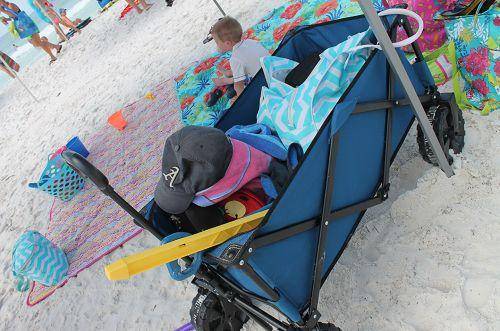 Bring a Wagon for all your "Stuff"
Let's just say 3 kids and 2 adults drag a lot of stuff to the beach! Since we have a little one that had to be carried to the beach & 2 other little ones there was no way one person could carry everything we needed so this Wagon was a lifesaver!
One tip: Invest in the wagon with All Terrain Wheels, these are much better for pulling the wagon on sand because the wheels tend to go down into the sand so the larger wheels are great on surfaces like sand.
Use Baby Powder to Remove Sand!
This is one of my favorite beach tips! Bring along Baby Powder to use when you're removing sand, I don't know how this works, but it does! Just rub the baby powder on your arms & legs and the sand falls off. It's Crazy & Awesome all at the same time!
Pack Individual Snacks!
I'm normally not a fan of pre-packaged goods because they are more expensive than the larger family size bags, but I can't stand when one person puts sandy hands into a bag and then the entire bag is ruined! SOOOO this is one of the few instances when I really prefer the pre-packaged snacks! It's also an easy way to save money and avoid paying for expensive snacks you buy on the beach.
Note: You can also take the family size bags and divide them up into individual servings but this is a vacation ;) I do purchase these at home and bring them with us so that I can stock up when I find a good sale and I don't have to pay full price at the destination. Planning ahead for items like this is another great way to save!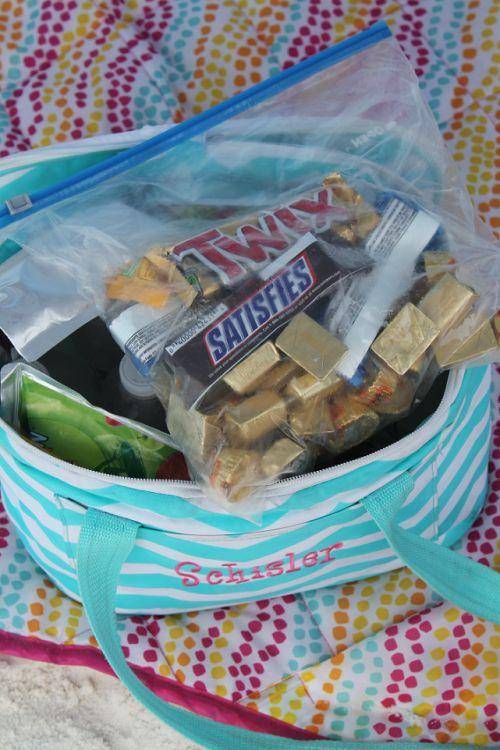 Keep Chocolate in the Ice Chest
On hot summer days the chocolate will melt fast, bring along another Ziploc Bag and stash that chocolate or anything that will melt at the top of your ice chest.
Freeze Your Water Bottles & Use as Ice Packs
Throw your water bottles in the freezer at the condo the night before and use these as Ice Packs in your Ice Chest, as the water thaws you can drink the bottles and you save yourself a little space to pack more drinks (or chocolate :) See above)
Skip the Juice Boxes & Buy Pouch Drinks
I've learned the hard way that you can quickly ruin juice boxes in an ice chest. The Cardboard boxes just aren't made to withstand sitting in melted ice water all day long, but these 100% Capri Sun Juice Pouches are the perfect alternative. These can last all week in an ice chest and they don't have the added sugar that most pouch drinks contain.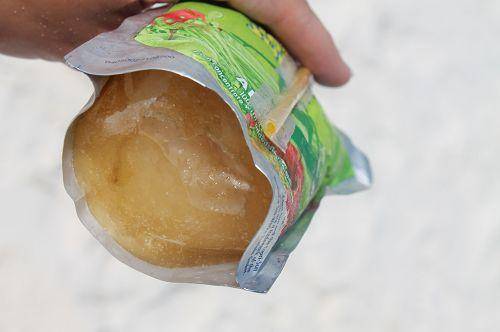 Make Capri Sun Slushies
Freeze Your Capri Sun Drinks overnight, then once they are half thawed Cut off the Top and eat with a spoon! These are a PERFECT Icy Treat for the beach that's not complicated and it won't cost you a fortune! My kids love doing this even when we are at home.
Wash Sandy Hands in Buckets of Water
With little ones that are always playing in the sand it can be hard to get those hands clean. We fill up a few buckets of water and let the kids rinse their hands before sitting down to eat a snack. That way they don't end up with sand in their mouth :)
Bring Bath toys from Home
You don't have to invest in a ton of beach toys that will only get played with once a year. Some of my kids favorite beach toys are actually bath toys! Look around your house and see what Cups, Bowls, & Bath Toys you have that you can bring along. I typically find my kids love just about anything they can fill or pour when we're at the beach it doesn't have to be fancy.
These Measure Up Cups by Discovery Toys (Fisher Price makes some similar too) have been a favorite of all three of my kids!
Use Reusable Shopping Bags as Beach Bags
One of my FAVORITE Finds at T.J. Maxx are their Reusable Shopping Totes, these typically sell for just $0.99 and they come in a bunch of adorable styles. These bags are a plastic material and really well made, they are great for using as beach totes and you don't have to worry if they get sandy or messed up since they won't cost you a fortune.
You can also buy these super cheap on Amazon, The fabric ones wash really well in the Washer or with a water-hose so they are great if you end up getting sand in them, which let's face it you probably will since this is the beach :)
Bring Along Your Own Beach Toys
I actually hit up discount stores like Big Lots, Dollar Tree and Deals before we left on vacation to stock up on Beach Toys! They are so much cheaper when you aren't in a tourist city and if you buy new they are normally packed really small so they travel well! We picked up some Tubes, Body Boards, Sand Buckets and more for just a few dollars each! My kids were in heaven and I didn't have to spend a fortune.
Use Ziploc Bags for Electronics
Never underestimate the power of a Ziploc Bag :) You can use them for just about everything including keeping your electronics, cash and keys dry! I always stash an entire box of bags in our car before we leave so that we don't run out!
Make Homemade Sunscreen
There have been a lot of reports lately about the chemicals used in sunscreen. If you're worried about chemicals then try making your own Homemade Sunscreen using Zinc Oxide, I've got 2 different recipes you can use here!
Keep a Cooling Spray in your Ice Chest
Place a spray bottle filled with Green Tea in your ice chest! Then pull it out and spray on your face or body when you need to cool off! This is also great in a spray bottle with a fan on it. Just fill a spray bottle with water, Place 2 tea bags in the bottle for a few hours and place the spray bottle in your ice chest to chill!
You can also try making this after sun spray and keeping it in your cooler! This is just another way to use tea to help cool off your skin after you've been in the sun!
Make Your own Beach Waves Spray
Skip the expensive stuff at the drugstores you can make your own Beach Waves Spray with only a few ingredients! Check out this recipe here for a quick and easy Homemade Beach Waves Spray!
I would love to know what your favorite Beach Hacks are! We're always looking for new ones so I'd love for you to leave a comment below!
Also, don't miss my post on 10 Ways to Save Money on a Beach Vacation for More great tips for hitting the beach with kids!