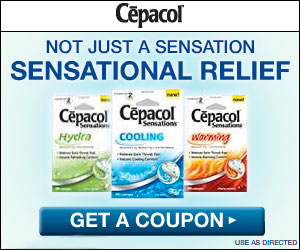 Hurry and print this new $3/1 Cepacol Rite Aid Coupon + this $1/1 Cepacol Coupon to get FREE Cepacol at Rite Aid this week! On top of getting this for FREE You also get a 2 +UP Rewards which means this is a $2 Money maker!!!
Cepacol Lozenges, $3.99 at Rite Aid
$3/1 Cepacol Coupon
$1/1 Cepacol Coupon
FREE after Coupons + Get $2 +Up Rewards!
You can't get much better than Free most of the time, but this $2 Money Maker is about as good as it gets!
Remember, if you don't have a Rite Aid, some Dollar Tree Stores have the 16 Ct. Cepacol Lozenges for $1 making them FREE after this $1 Coupon!
Thanks, Free Stuff Times