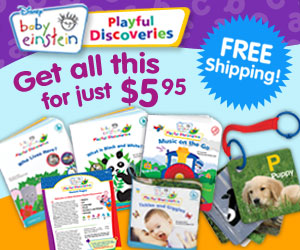 For a limited time you can get a great deal on some Baby Einstein Books! You can get a package that includes 3 board books and 1 plush book, discovery cards with an attachable ring for only $5.95. And shipping is FREE!
You can also get a bonus book for 50% off – Baby's First Words Jumbo Board Book.
Baby Einstein books are great for the little ones. If you don't have a little one yourself, keep in mind that these sets make great gifts!
Here is how to get your first set for just $5.95 shipped:
1) Fill out your shipping information and also include birth date (or due date) of the child.
2) Select "Yes" or "No" as to whether you want the bonus book.
3) Hit SUBMIT to complete your order.
You will be enrolling in a monthly club, but you can cancel at any time by going online to manage your membership. There is NO additional purchase obligation after the initial package.
So take advantage of this great deal on some great books today!
For more deals on Baby Products, Mommy Products, Diapers, and much more, check out our Baby Deals Page!