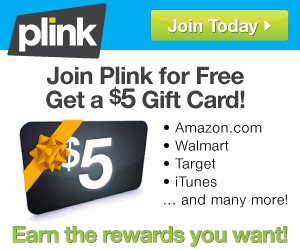 Plink has another great offer – You can get a FREE $5 Gift Card, No Purchase Required! All you need to do is sign up with Plink and register a debit or credit card.Once you register your card, 500 points will be deposited into your account and you can choose your gift card from places like Starbucks, Amazon and tons more! It may take about 5 minutes for it to show up in your account.
Here is how to get the FREE $5 Gift Card deal:
:: Sign up for Plink and register a credit or debit card
:: A few Hours after you register, Plink will add 500 points to your account.
:: Redeem your 500 Plink Points for a $5 Gift Card to Amazon, Starbucks and other great places!
This is really easy and I have heard from so many of you who have gotten other rewards already just by using this program and doing your normal eating & shopping!