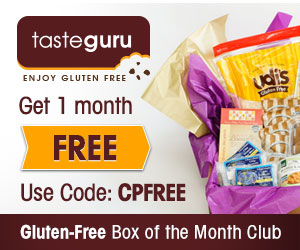 Sign up for Taste Guru and try your first box for FREE ($37 Value). Just pay $12 for shipping! Use code CPFREE at checkout to get this deal. After the first month pay just $24.95/month with FREE Shipping, or cancel at any time.
It can be hard to find great tasting gluten-free food, but with Taste Guru, they find the best food and send it to you each month. Brands you may not have even heard of before, had you not signed up.
MY LATEST VIDEOS
Your monthly subscription is only $24.95 a month & saves you 50% off retail every month. Each box is 100% guaranteed!
So if you eat gluten-free, or are trying to get started, be sure to check out this great deal from Taste Guru and get your first box of gluten-free food for FREE!