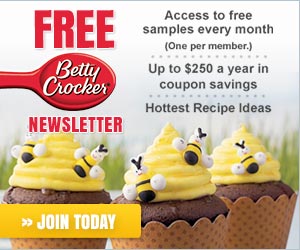 FREE Betty Crocker Newsletter Go
Sign up for the FREE Betty Crocker Newsletter and get Free Samples Every Month + FREE Cookbook!  You will also have access to up to $250 a year in coupons!
Betty Crocker is known to have some great free sample each month, but you can only request if you are a current Betty Crocker member, so get signed up today and be ready for the next awesome freebie that comes along.
MY LATEST VIDEOS
And if you love to cook or bake, you will love all of the great recipes that come in each newsletter! PLUS, get a FREE eCookbook to download with your first email! A $10.99 value!
So get signed up for the FREE Betty Crocker Newsletter today!
Plus, Don't miss all the other Free Stuff I have posted Recently.
You can also sign up for our New Email Alerts! You'll be notified by email when New Coupons, Free Samples and Deals that won't last long are posted. It's a great way to stay up to date all day long, just keep in mind you will get multiple emails in a day. If you only want one email per day you can sign up for our Daily Email Newsletter.