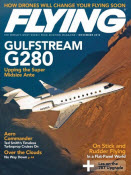 For a limited time you can score a FREE Subscription to Flying Magazine!
This would make a cool Father's Day gift! You will get a 12-month digital subscription. No strings attached. You'll never receive a bill.
And if you download the immediate issue after you submit your order, you'll receive one extra issue. That's 13 issues in all!
Flying magazine's editorial focus is for general aviation-active pilots and aircraft owners. The articles in Flying provide evaluation reports on technical and mechanical aspects of flying, AA and industry news and information on flight safety and piloting business airplanes.
Get your FREE Subscription to Flying Magazine Today!