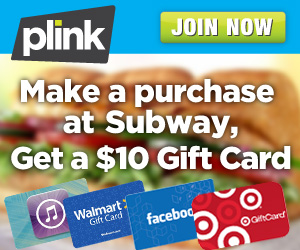 Plink is back with another great offer. This one for those of you who love to eat at Subway. If you Make ANY Purchase at Subway you can get a FREE $10 Gift Card! This offer is available only to new Plink members.
Here is how you get your FREE $10 gift card:
MY LATEST VIDEOS
1) Sign up for Plink HERE
2) Register any debit or credit card to your account by 6/23
3) Make any purchase at Subway using the same card by 6/23
4) Plink will deposit 1,000 Plink Points into your account within 7 days
5) Redeem points for a $10 Gift Card to Starbucks, Amazon and tons of other places!
It's really pretty easy to get a FREE $10 gift card. Then you can continue to add Plink Offers to your account and earn more gift cards by eating out at Taco Bell, McDonalds and many others, shopping at places like Gap and Old Navy, or going to the movies.
So get signed up with Plink today and find out what it's all about.
For more awesome Free Stuff for you today, check out our Freebies Page for free samples, free products with coupons, and more!