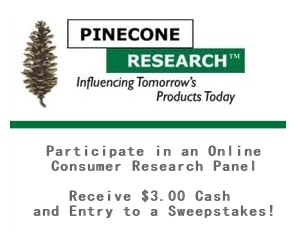 Looking for a Survey Company? Pinecone Looking for Hispanic Members, Members in the 18-25 Age Range (Apply Here) and more (Everyone Else Apply Here)!  Pinecone is very picky about who they select because of the great products they work with. If you don't get selected right away, keep checking back!
Survey companies are such a great way to earn a little extra money from home. Save up for something special, like a vacation you might not otherwise get, or start saving for holiday shopping!
Pinecone Research is by far one of my absolute favorite survey companies! But don't just take my word for it. Here is what some of my readers have to say about Pinecone on Facebook:
"Pinecone is awesome. The best survey site out there and I have done many. Quick to pay and they do send lots of products to try. The only thing is I only get 3 or 4 a month. Worth joining."

"Love Pinecone! . I've received numerous test products. You get paid to take a survey, sometimes you get picked to test a product, then they pay you to take another survey about you using the product. Win, win!"

"Love love love Pinecone! I am a member and I enjoy testing the products they send and of course the payments don't hurt either. They are small but they add up."

"I am a Pinecone member and love it.""I am a member They are my number one company!"

"I have been a member for several years! About 3-4 surveys a month sometimes more, test things about once a month, pays $3 per survey, sends a check as each survey is done , usually get it in 3 days unless you opt for the prepaid card they started doing, and it is deposited within 24 hrs!"

" I've been a member for a little over a year now and I love it! I get at least one survey a week and get paid for them through the paypal option which is awesome. And at least once a month get to test a product. They are really one of the best."

" I get about a survey or two a week from them and get paid 3.00 per survey, I am glad I joined with them."
If you aren't Hispanic there are a few other options, they are also looking for Members in the 18-25 Age Range (Apply Here) Or If you're not in one of those Groups you can Still Apply Here to See if you Qualify!