It's that time of year again! Time for Free Slurpees at 7-Eleven Stores. Tomorrow July 11th (7-11) You can stop by any 7-Eleven Store from 11am through 7pm and get a FREE Small Slurpee Drink!
Here are the details from the 7-Eleven Facebook Page:
We're celebrating 7-Eleven Day with FREE SMALL SLURPEE DRINKS* this year. It'll be so great, you'll feel like dancing. Especially after you see the Slurpee Dance. Oh yes, there's a dance.
Watch the dance video, how-to guide and bonus footage here: http://bit.ly/SlurpeeDance
Do your own dance, upload it, add @Slurpee and #SlurpeeDance and then come to 7-Eleven on July 11th to get your free small Slurpee drink. Then you should probably do the dance again. Do it for the arts.
*At participating stores, while supplies last.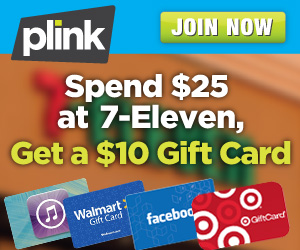 Plus check out this awesome new offer for New Plink Members. Spend $25 at a 7-Eleven Gas Station (This includes Gas!) and get a FREE $10 Gift Card of your choice to stores like Walmart, Target and iTunes!
More details:
Valid for in-store and gas related purchases
Plink Member must link a credit or debit card and make a $25 min purchase at 7-Eleven by Sunday, 7/21 11:59 EST
Purchase is necessary (after the member links a credit/debit card to their Plink account) to qualify for the bonus 1,000 Plink Points by Sunday, 7/21 11:59 EST
Bonus 1,000 Plink Points will be awarded within 7 business days of the transaction posting date.
7-Eleven purchases that occur on 7/22 or later will not qualify for the bonus.