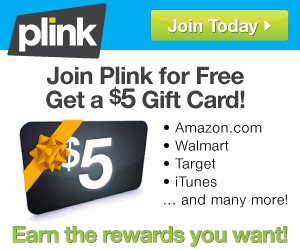 The Plink FREE $5 Gift Card Offer Is Back! Join today and get a FREE $5 gift card to the retailer of your choice! Choose from places like Starbucks, Amazon.com and more!
Once you have signed up, you can then take advantage of their other great offers! Shop and eat and even see a movie, and earn money at the same time! Just add the offers to your Plink "Wallet" in your account.
MY LATEST VIDEOS
You select where you want to eat or shop, and Plink activates those offers on your credit or debit card. It's easy and safe! Plink is designed so you don't have to carry around an additional card, print out coupons, or use some sort of code to get your rewards. Simply pay with the credit or debit card you register with Plink when joining and we'll automatically give you your rewards.
So get signed up today! It will take about 5 minutes for the points to show up in your account, but as soon as they do you can request your $5 gift card!