Back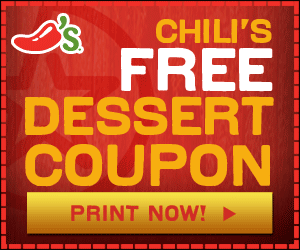 For a limited time you can get a coupon good for a FREE Chili's Dessert. Â Just sign up for their email club and they will send you the free dessert coupon via email. Â This is a great coupon for those who eat at Chili's regularly, or those who just want to try it out and grab a free dessert. Â Their Molten Chocolate Cake looks pretty yummy!
Don't miss all the great new Printable Coupons that I've posted recently!
you also might like...
latest coupons

latest deals

latest freebies

latest matchups