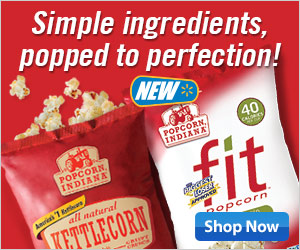 I want to introduce you to  New Popcorn Indiana FIT Flavors with new tasty and healthy snacking options! Be on the lookout for the FIT line which has 40 Calories or LESS per cup! You will find Olive Oil, Sea Salt, Parmesan & Herb, and Real Butter Flavors!
Check out some of the features of the New Popcorn Indiana Fit Flavors:
– Olive Oil FIT Flavor is verified Non GMO. Part of the Non GMO Project and 40 Calories per cup.
-The whole FIT line of products have: 40 Calories per cup
-Sea Salt Flavor: Non-GMO Project Verified and 37 calories per cup
-Parmesan & Herb; Onion Dijon: 40 calories per cup
-Real Butter: 30 calories per cup; Certified by the AHA as a heart healthy food
I already LOVED Popcorn Indiana Popcorn and I am so excited to try these new FIT Flavors!
Don't forget to get all the best Printable Coupons today, check out our Printable Coupons Page!