There are some great UGG Deals happening this year and I will have all of the Best Black Friday Ugg Deals & Cyber Monday Sales for 2021 that we see this year! I am going to be updating this post with all the best Cyber Monday Deals so you have all the prices to compare in the same place.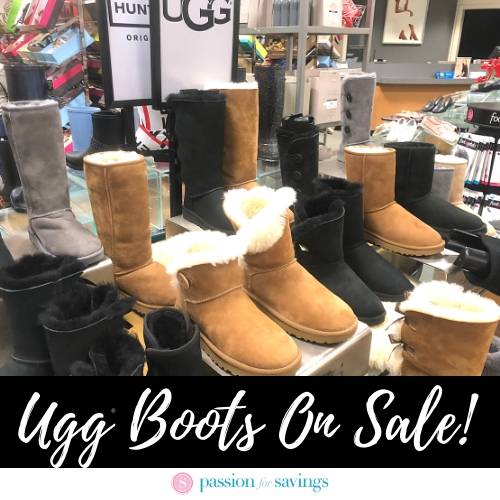 Black Friday Ugg Deals & Cyber Monday Sales 2021
WOOHOOO!!! I've been WAITING on a Sale on UGG Boots for you guys, and we finally have one! Right now there are some AMAZING Prices on Ugg Boots! You guys, these prices are BETTER than the Black Friday Deals Last year so don't wait!!! Hurry to grab your favorites for the cold winter weather before your favorites all sell out!
RueLaLa has so many great styles on sale today. You will find styles for women, and kids in this sale. As well as some Ugg apparel. But shop soon! Sales like this on RueLaLa tend to sell out quickly! Check out some of these styles we've spotted in stock for you…
I feel like I may need these UGG Leisure Suede Slippers that are on sale for $55.99. (was $80) Seriously the best Christmas gift idea!
Look at these UGG Mini Bailey Bow Glimmer Suede Boots that you can grab for $84.00. (was $160)
Head on over to RueLaLa to shop the full Ugg Sale today!
UGG Boots on Sale at Zulily
We also found some fantastic UGG Boot deals at Zulily! There are no Zulily Coupon Codes needed, and if you aren't a member of Zulily, be sure to sign up here. Take a look at how adorable these boots are…
Check out these Wild Grape Classic Zodiac Short Suede Boots on sale for $89.99 (was $200)! These will definitely keep your feet comfy and warm this winter!
You can also get the Starry Night Zodiac Mini Boot on sale for $74.99 (was $180)!
Click here to shop all the UGG Boots on sale at Zulily!
Gilt Black Friday Deals on UGG Boots
Gilt also has a HUGE UGG Cyber Sale going on right now, these are selling out fast, but here are a few options that are still available in multiple sizes. You can Click here to see all the UGG Boots on Sale on Gilt right now!
These UGG Classic Short Weatherproof Leather Boots are marked down, you can grab for $168.99. (was $220)

UGG Women's Slippers Deals
If you are looking for the Best UGG WOmen's Slippers on Sale then don't miss this pair of UGG Women's Dakota Slippers. They are marked down from $100 to just $78.99 right now!
Click Here to see what sizes are available!
The UGG Closet also has these Women's Dakota Double Bow Slippers on sale for 30% off Right now making them only $76.99 each! Normally $110!
Kids Black Friday Ugg Deals
There are also some great Kids Ugg Boots on Sale today! How CUTE are these Classic II Glitter Boots?? I just love them! These are only $82.97! They're selling fast, too!
Hurry to grab your favorite Ugg Boots before they sell out!!
UGG Boots Black Friday Deals
We will update with the best deals as soon as they are live!
UGG Cyber Monday Sales 2021
We will update with the best deals as soon as they are live!
You May Also Like These Deals!
Check out these other Black Friday and Cyber Monday Deals you might be interested in!
Sign Up for our FREE Black Friday Deal Alerts and be the first to know about New Black Friday Deals and The Best Ways to Save On All Your Holiday Shopping!
You can also request to join our Black Friday Group on Facebook for updates on the best daily deals and lightning deals + All of our favorite sales each day!
UGG® and Koolaburra by UGG® are trademarks of Deckers Brands.