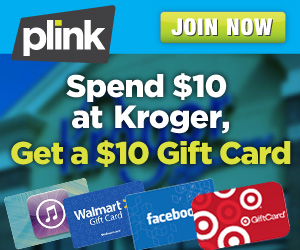 For a limited time you can Get $10 Just for Shopping at Kroger! Just sign up for a new account with Plink!
1) Sign up for Plink HERE
2) Register any debit or credit card to your account by 8/4
3) Make a $10+ purchase at Kroger (and affiiates) using the same card by 8/4
4) Plink will deposit 1,000 Plink Points into your account within 7 days
5) Redeem points for a $10 Gift Card to Starbucks, Amazon and tons of other places!
It's that easy! Once you are signed up you can look through all of their other great offers to earn even more points! You can cash out for a $5 gift card to one of many locations after you reach 500 points, which can happen fairly quickly.
This offer is valid at the following Kroger locations: Kroger, Fred Meyer, King Soopers, Ralph's and Dillon's
So get signed up today and take advantage of this great offer before it ends!