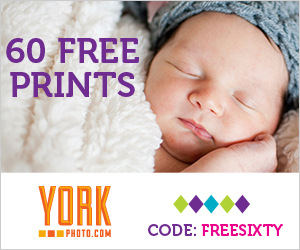 For a limited time you can get 60 FREE Photo Prints from York Photo!  Just use code FREESIXTY at checkout.  You will need to pay shipping, which should run about $2.99.  But that still makes them less than $0.05/print!
These deals are such a good way to get caught up on some photo printing.  If you are like me you don't want to go through the process of ordering prints too often, but when you do you get a bunch to make it worth it!
This offer valid for 60 free 4×6/4×6 prints that must all be used on the first order. Ordered online only. Does not include shipping and handling. One time use.  Offer valid for new customers only. All free print credits must be used on new customer's first order.  Can be combined with other coupon codes at checkout, but not for the same items on the order.
Plus, Don't miss all the other Freebies I have posted Recently!