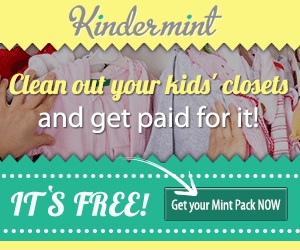 Sign up for Kindermint and get paid to Clean out Your Kids Closet! If you are doing some spring cleaning and trying to get rid of some of the kids clothes, be sure to check this out!You can sign up for Kindermint for FREE, send them your kids old clothes, and get paid!  Here's how:
Order a free MINT PACK from Kindermint
*In order to reduce waste, we require a refundable deposit of $4.95.
Stuff the MINT PACK full of kids clothes you wish to sell
Drop the Pre-Paid MINT PACK in the mail (UPS or USPS)
Cash in! Your choice of check or deposit to your PayPal account.
Seems pretty easy and a great way to earn a little extra cash. So head over to Kindermint and check it out today!
NOTE: When you return your Kindermint Pack you get your full deposit back so you aren't paying anything out of pocket after you send your clothes in.