I don't know about you, but my family loves Great American Cookies Cakes! Check out this Homemade Cookie Cake Recipe to make for your next Birthday or Celebration!
This Homemade Cookie Cake Recipe is perfect if you are trying to save a little money or if you want to decorate your own with you kids! For this recipe you will use 2 Pillsbury Refrigerated Cookie Dough Packages. The best part is, you can frequently find Pillsbury Coupons for this product on Coupons.com! This is a great way to cut down on the cost of a Birthday Cake!
Homemade Great American Cookie Cake Recipe!
Ingredients
2 Pillsbury Refrigerated Cookie Dough Packages
1 Package of Vanilla Frosting
1 Package of Chocolate Frosting
Instructions
Bake at 325 for around 25 minutes or until center looks set
Use Chocolate and White Frosting (I like the betty crocker brand)
Use a Larger Tip in one color for the "Background" Then a smaller tip in another color for the writing. This gives it the great american cookie company look.
Pipe Stars around the edge of the cookie.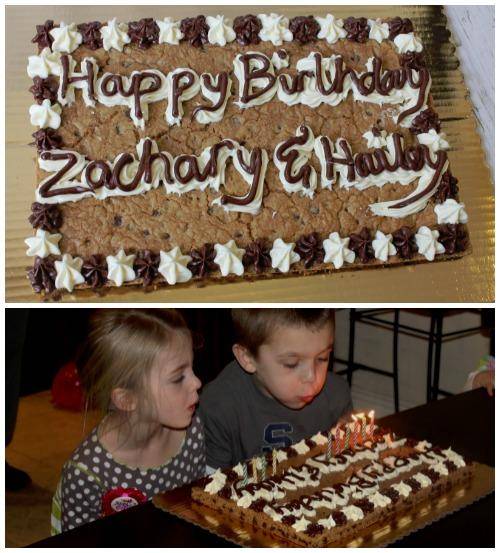 If you are planning a Birthday Party or special event for your family, you can also check out this Rainbow Cupcakes Push Pops Recipe! These are so much fun for any occasion! Try them now with your family! These are a great addition to the Cookie Cake!
Make sure you check out our Saving Money Blog and also our How to Coupon Page for more tips, tricks and videos on saving money and using coupons.
Make sure you Follow Me on Pinterest!