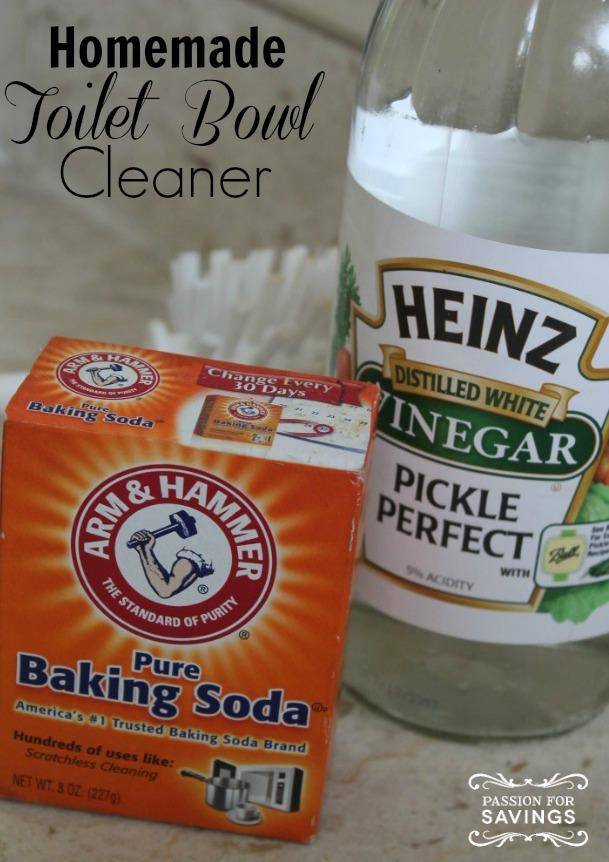 Toilet bowl cleaners like any cleaners you can buy to use in your home, tend to have a ton of harsh chemicals. Definitely nothing I like to have out around the kids. However there is a very simple way to make Homemade Toilet Bowl Cleaner using natural ingredients and it will cost you so much less than what you can buy in stores.
A simple homemade toilet bowl cleaner can be made with two ingredients you likely already have in your kitchen cupboard – Vinegar and Baking Soda.
A great way to really get your toilet bowl clean is to actually remove all of the water while you are cleaning it. This is a great way to give it a good cleaning without using the water that is in the bowl.
Here is an easy way to use this Homemade Toilet Cleaner to really deep clean your toilet bowl:
1) Turn off the toilet's water shutoff value so water will no longer fill the toilet when you flush. You can do this by finding the value under the toilet and turning it clockwise as far as it will go.
2) Flush the toilet, and keep flushing it until there is no longer water inside the toilet bowl.
3) Take about a cup of baking soda and sprinkle it around the inside of the toilet bowl. With a spray bottle, spray vinegar all over the bowl of the toilet, including underneath the rim.
4) Let the mixture sit for a few minutes (up to 15) and then scrub the entire bowl with a toilet brush.
5) If possible, to give it a good cleaning, leave the mixture in the bowl overnight or at least for a few hours. Then give it another good scrubbing.
6) Turn the value back on and flush to fill the bowl back up with water.
Not only does this process get your toilet bowl sparkling clean, it is very inexpensive to do. Not to mention you are using all natural ingredients that are much safer to have in your home.
Have you ever used anything other than store bought cleaner to clean your toilet?