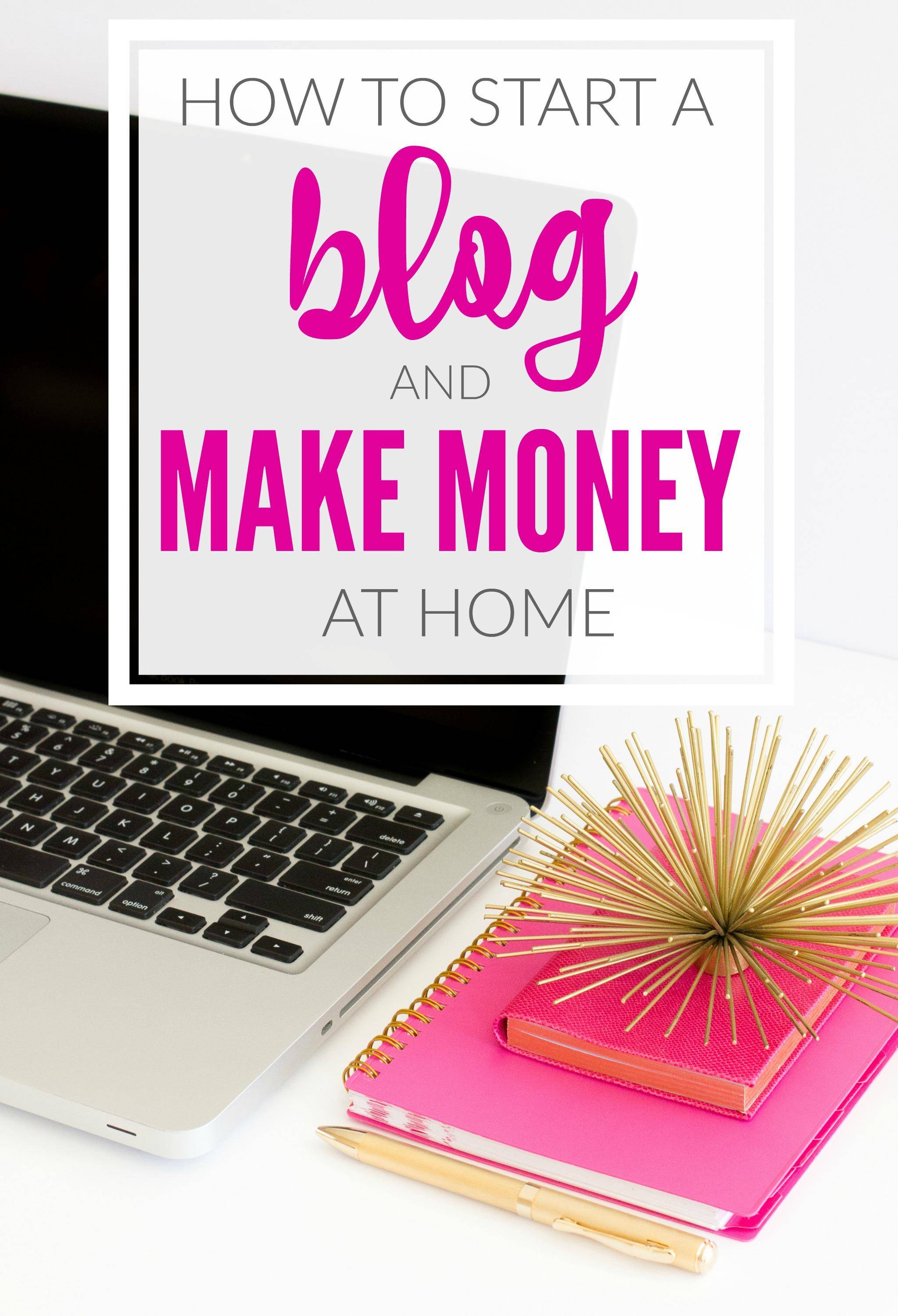 One of the questions I get asked all the time is about How to Make Money At Home and Specifically how to start a blog. When I first started blogging I had no clue it was even possible to make money at all, I just started because I was sharing deals with Friends and Family Members and I was writing about a topic that I was passionate about. Months later I was chatting with another blogger on Twitter when I realized she was earning money from her blog and I set out on a journey to figure out how to make money at home with a blog.
Right now there's a HUGE Sale on Hosting through Blue Host! You don't want to miss out on this sale, you can have your own blog for LESS than $3 per month!!! I've put together step by step instructions on how to get started, This only lasts a few more days so don't wait!
How to Start a Blog
WordPress is by far my favorite platform and right now you can start your own WordPress Blog for really cheap! So I put together step by step instructions for you, it's really not hard! Anyone can do it in just a few minutes, BlueHost makes it easy! 
How to Start at WordPress Blog
I wouldn't be a very good deal blogger if I didn't share a deal with you on how to set up a blog and get started on your own. BlueHost is a great place to start a blog because they have Super Affordable Plans, you can get hosting as low as $2.95 per month! That's a great price and perfect if you're just getting started!
For a Limited Time Only!!! You can get Hosting for as low as $2.95 per month using this link. This is the lowest price I've ever seen which means it's the best time to sign up!
Here's a step by step tutorial on How to Start a WordPress Blog using Blue Host:
1.) Start by Signing Up for a Blue Host Account
You can sign up for Blue Host Here. You just need to click on the Green Get Started Now Button, there's a 30 day Money Back Guarantee so you don't have to worry! They also have 1 Click WordPress install which is perfect for those of you who aren't technical and want to set up a blog fast.
There are a lot of different hosting companies and plans out there, If you're a beginner then you probably don't need a big plan or a lot of hosting to start with, you can always upgrade later once you are making more money off your blog. I would recommend starting with the $2.95 or $6.95 per month plan when you are first starting out.
If you have a domain already you can transfer it to BlueHost at this point, or you can Get a Free Domain Name when you register your domain directly through Bluehost and purchase 12 months worth of hosting!
4.) Create Your Account
Next you'll need to enter all of your account information to get started! Keep in mind that if you already have a business you may want to use your business information in this section, otherwise you can use your personal information.
5.) Set Up Your Package Information
You will get the cheapest per month price by selecting the 36 month option, you will be charged for the full 36 months up front, but when you break out the cost per month it's the best option!  If you sign up for the 24 month plan you'll still only pay $3.95 per month, and if you sign up for 12 months at a time you'll pay only $4.95 per month which is still very affordable.
Keep in mind, you need to sign up for a minimum 12 months in order to get the Free Domain Name Registration!
IMPORTANT TIP: The only add on I recommend is the Domain Privacy Option, that keeps your contact information from being available on domain registration sites. It's less than $0.99 per month, which isn't much to be able to keep your contact information private.
6.) Enter Your Billing Information
Remember, if you choose the 12 month or longer option you get some great freebies like the Free Domain Registration and the lower price. It will charge the entire amount up front, but remember they have that Money Back Guarantee so if you need to move or switch you can always take advantage of that
7.) Install WordPress
Once you have your hosting plan selected and paid for you can start installing WordPress. This is one of the reason Bluehost is perfect for beginners, they have a simple install process so you can get it all set up yourself without having to hire a tech company.
Just click the Install WordPress Button under Website Builder to get started.
8. Click on Start for a Brand New Install
All you need to do is click Start and Bluehost will automatically install WordPress on your domain. It's simple and easy and doesn't take very long to set up.
9.) Choose Your Domain for Install
Once you click the start button you will need to decide which domain you will want to install WordPress on. Click the drop down menu and select the domain you created earlier, or the one you want to use if you have multiple domains on your account.
10.) Set up Your Username and Password
To create a Username and Password click on "Advanced Options" Choose something creative that includes numbers and letters to make it more secure.
TIP: Make sure you click Create a New Database for this Installation on this step.

11.) Click Install Now
WooHoo! You have a new Blog ready to go! All you need to do now is log in to your website using the username and password you created and start your first post!
12.) Log In and Create Your First Post
All you need to do now is log in to your website using the username and password you created and start your first post! You will receive an email after you complete the steps above with a link and your WordPress login URL. Make sure you save your username, password and log in information somewhere that you can access if you ever forget it in the future. 
There are 3 things you need to know before you start a blog, 1.) What platform do you want to use (We've already covered how to start a WordPress blog), 2.) What do you want to blog about, 3.) What do you want to accomplish with your blog.
I learned all three of these the hard way, so I want to make sure you learn from my mistakes  :) When I originally started blogging I wrote about my kids and family, but I wasn't passionate about sharing details of my life so I ended up not being consistent, at the time I thought that was all you could blog about and so I never gained a good following because consistency is key when you're blogging, even if you only post once a week, be consistent and write about something you love!
It's also important to know your "Why" why are you blogging, is it to share your life with friends and family, to make money at home or to build an audience so you can eventually write a book or speak on a topic your passionate about. Blogging is great for all of these things, but how you approach your blog will largely be determined by how you view it. If you want to Make Money Blogging at Home then you need to treat your blog as a business, make investments in it, work on it consistently and be willing to promote it to those around you.
And last but not least another important decision you need to make is which platform will you use to start your blog. This was actually one of the biggest mistakes I made in the beginning because I just didn't have any idea what I was doing and I ended up changing platforms about 4 or 5 months after I started blogging from Blogger (Google's Free Option) to WordPress. I was lucky because my husband is a computer engineer and he was able to figure out the process for me, but if I hadn't had him I probably would have been stuck for a while and so I try to always encourage people to start on WordPress and go from there because it really will save you time &  money in the long run!
Why WordPress Works Best for Blogging
The natural question is what is the difference between WordPress and blogger?  Well in my case with WordPress you actually own the database, with Blogger you're at the mercy of Google and their Terms and Conditions, they are paying for the hosting of your blog and they can take it down at any time if you violate their terms. With WordPress (The .org versions, not the .com) you will pay a small fee for hosting but it's worth it in the long run because there are so many tools and opportunities available for your blog especially if you are going to use it to make money that you will be missing out on with another program.
A Few More Tips on Getting Started
Customize the Appearance of your website with a Free Theme, WordPress offers tons of Free Themes that you can search through, this is set up after you log into WordPress, I recommend starting with a Free Theme there are a lot of great designs to choose from.
If you want to add ads to your website you can sign up for Adsense, it's completely free and all you need is a gmail account to get started.
Share your posts! It's important to make sure that each time you do a new post you share it with your friends and family, or your customers. Let them know the post is there and ask them to help you get the word out. This is one of the easiest and most authentic ways to drive traffic to your site. Traffic is how you earn money, once you have the ads set up you'll earn a small amount for every 1,000 people who visit your website, so once you're set up all you need to do is write and share! It's that easy!
The most important piece of blogging and earning an income is creating great content! Take time to write, add in photos and post consistently, over time you will learn more and more and be able to implement that on your blog. There are tons of Free Resources out there on Google and You Tube, I also recommend using Fiverr if you need things like Images, Logos or Graphics, I've used this over the years when I need something fast and inexpensive, you can create an account on Fiverr here. 
How to Make Money at Home
Here are a few of my favorite ways to Make Money at Home, I make a full-time income from blogging, so I'm obviously partial to that one but there are so many other ways you can use blogging to generate an income at home too!
Start a Recipe Blog – Share your favorite Recipes each week and then pin those recipes to pinterest! It's an easy way to generate traffic, and If you love to bake or cook this can be a great way to turn your passion into a business.
Set up a Blog for your Home Based Business – If you already have a business that you run from home then a blog is a great "Home" online that you can link to from Facebook, your emails, etc. that tells people more about what you do, it's also great for showing up in search results and helping new people find your business.
 Write about your Passion – Do you want to be a writer, speaker, coach, Blogging is the perfect way to build a platform to launch into your dreams! It gives you a voice and lets you connect with people who are interested in the same topics so you have an audience when you launch your next product!
Sell your Products Online – If you are creative and you have items you make at home, you can sell those online through a blog or wordpress website. There are some great themes out there to help you sell products online, you can also find shopping cart plugins for wordpress that will let you turn your blog into an online store.
Collaborate with others – Grab a friend and start a blog together! Some of the most popular blogs out there are group blogs that have a lot of different content (Funny, news worthy, recipes, etc.) Anything goes when it comes to blogging, if you find it interesting, other people probably will too, and once you install ads on your site every pageview will earn you money, so don't be afraid to blog about anything and everything you love!