If you were looking to save on some household essentials, there are lots of Amazon Household Deals that are LIVE NOW! There are some AMAZING deals on top brands like Tide, Cascade, Glad, Finish, and more! Make sure you check out all of the other great Amazon Coupons & Sales we are finding for you lately.
Amazon Household Deals
For a limited time, Amazon has some greats savings to help you save on Household Items! You can earn $15 off Instant Savings when you Spend $50 on select products at checkout.
Offer only applies to products sold by Amazon.com or Amazon Digital Services LLC (look for "sold by Amazon.com" or "sold by Amazon Digital Services LLC" on the product detail page). Products sold by third-party sellers or other Amazon entities will not qualify for this offer, even if "fulfilled by Amazon.com" or "Prime Eligible".Offer does not apply to digital content.Offer good while supplies last.Shipping charges and taxes may apply to the full value of discounted and free promotional items.Items must be purchased in a single order and shipped at the same speed to a single address.Amazon reserves the right to modify or cancel the offer at any time.Offer is non-transferable and may not be resold.Offer discount will be allocated proportionally among all promotional items in your order.If any of the products or content related to this offer are returned, your refund will equal the amount you paid for the product or content, subject to applicable refund policies.If you violate any of these terms, the offer will be invalid.Unless an Amazon Gift Card is the stated benefit of the promotion, promotional codes (including those placed directly in accounts) may not be redeemed for Amazon Gift Cards.
Some of the items will also get an additional 5% off when you opt to Subscribe & Save! They always have a nice variety of products in this promotion, but they tend to sell out quickly, so be fast!
Stock up on Dishwasher Detergent! Grab the 62 count tubs of Cascade Platinum for $16.97 each. To get your total up to $50 you'll need to purchase 3 tubs and get $15 Instant Savings dropping it to $11.97 per tub!!
Cascade Platinum, 62 ct – $16.97 ea (Buy 3)
Spend $50, Get $15 Instant Savings
$11.97 ea wyb 3 after Savings!
We have a nice deal on Hefty Kitchen Bags! They are priced at $14.39 each, so buy 4 boxes using subscribe & save. You'll pay $37.42 or just $9.35 per box!
Hefty Tall Kitchen Bags – $14.39 ea (Buy 4)
Spend $50, Get $15 Instant Savings
5% off using subscribe & save
$9.35 ea wyb 4 after Savings!
If you're partial to Tide, then grab the Tide Pods is $17.92 each. There is a 15% off subscribe & save coupon you can clip. Buy 3 tubs using subscribe & save making it $33.38 for all or just $11.12 per tub!
Tide Pods, 62 ct – $17.92 ea (Buy 3)
Spend $50, Get $15 Instant Savings
15% off using subscribe & save
$11.12 ea wyb 3 after savings!
These are just a few of the items included so be sure to take a look at all of the Amazon Household Deals because I know they will sell out fast!
Here are a few tips for saving 15% With Subscribe and Save:
1. You can increase your Subscribe and Save Discount from 5% to 15% when you order 5 Subscribe and Save items in the same month.
2. Check your Subscribe and Save Shipment Date in your account, Mine is the 6th of each month, so I just have to buy 5 Subscribe and Save Items before that date and they will automatically increase my discount from 5% to 15% when I order my 5th item.
3. You do not have to order all 5 items at one time, but it's sometimes easier that way! You can also order more than 5 items per month and every item over 5 also gets the 15% discount!!! See all the Subscribe and Save Items Here.
4. Set your Delivery Time Frame to 6 months on each item, You can cancel at any time under "My Account, Manage Subscribe and Save" and that gives you plenty of time to decide if you want the item shipped again!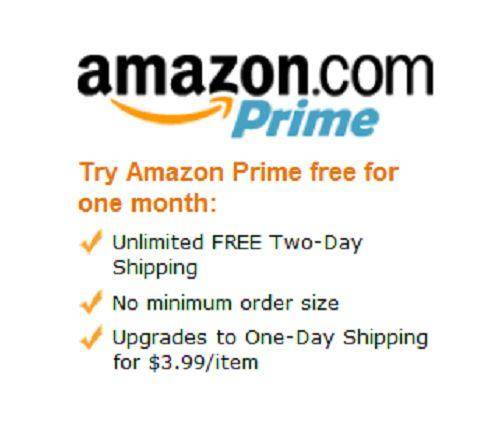 Right now you can grab a FREE 30 Day Trial to Amazon Prime and get Free 2 Day Shipping on thousands of items sold by Amazon.com.
You will get Free Shipping if you have Amazon Prime or on orders of $25 or more and if you don't have Prime, you can sign up for a Free 30 Day Trial of Amazon Prime here. Find more Amazon Deals on our Amazon Deals Page.
As an Amazon Associate I earn from qualifying purchases. Amazon.com Price: $9.35 (as of 08/4/2021 06:13 CST) Product prices and availability are accurate as of the date/time indicated and are subject to change. Any price and availability information displayed on Amazon.com at the time of purchase will apply to the purchase of this product. We are not responsible for and cannot control changes in pricing and availability, these change frequently so we recommend that you always double check the price before making a purchase.
Amazon® is the registered trademark of Amazon.com, Inc. or its affiliates.