This is the Best Homemade Bubbles Recipe made from scratch. All you need is Dawn dish liquid and you can blow or paint for hours of outside summer fun!!!
Check it out! I have The Best Homemade Bubbles Recipe for you to try today! Your kids will have so much fun with these PLUS they can use them to paint, it will keep them entertained for hours!
My kids are out of school for the summer, so I am always looking for fun things for them to do that will keep them from watching tv all the time. Anytime I find a fun craft or idea for them to do I love it! This is a super simple way to get the kids outside and playing, they'll love the bubbles and the fact that they can paint with them as well.
If your kids love bubbles, then you're going to love this homemade bubbles recipe, they don't take long to make and you can use whatever food coloring combination to make fun colors that your kids will enjoy painting with. My kids really liked the purple!
This is my favorite bubble recipe, it was super easy to make and the colors turned out super bright and fun. It turned out really well and I grabbed some long paper from my local craft store for the kids to paint on and they had a great time.
This bubble recipe only requires 4 different things, water, soap, corn syrup and food coloring. So you won't spend much money and it's super easy to make. The bubbles are bright and fun when the pop on the paper and it makes cool shapes that the kids will have TONS of fun making.
Here is what you'll need to make this fun bubble recipe:
2 cups warm water
1/3 cup dish soap
1/4 cup corn syrup
5 drops of Food Coloring
Here is how you can make homemade bubbles for your kids:
Combine all ingredients into a large bowl and stir slowly. Divide into multiple containers and color using food coloring.
Using Bubble Wands blow bubbles onto white paper or kraft paper. When Bubbles Pop you will see the colors come through!
Add additional food coloring as needed.
Here is the printable version of this great homemade bubble recipe to try today: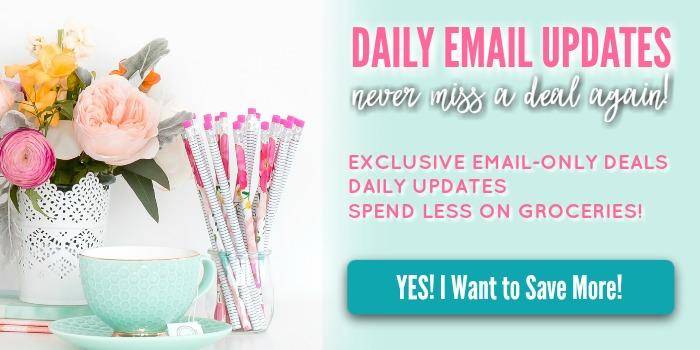 Never Miss a Deal Again! Join our Daily Hot Deal Alerts Email & get access to Exclusive Deals just for our Email Subscribers + You'll get Daily updates with all the best deals (both online & in store) so you can Save Even More! CLICK HERE to join our Community of People who Love to Save Money! We Make It Easy for You to Save!