Here are some Easy Thanksgiving Dessert Recipes! Get these now for your Family Thanksgiving Dinner!
If you are planning early or looking for last minute Easy Thanksgiving Dessert Recipes, here are over 25 Thanksgiving Dessert Recipes to choose from! Plus, be sure to check out even more Thanksgiving Day Crafts and Recipes!
Here are some of my FAVORITE Thanksgiving Dessert Recipes:
YUM! Here is the perfect recipe for an easy and tastey Thanksgiving Dessert! These Mini Caramel Apples will be everyone's favorite!
2.) Fall Leaves Rice Krispie Treats
These adorable Fall Leaves Rice Krispie Treats are perfect for Thanksgiving and they're super easy to make!
3.) Pumpkin Puff Pastry Turnovers
Everyone loves a good puff pastry! These yummy Pumpkin Puff Pastry Turnovers will be a big hit this Thanksgiving
If you're looking for a fun and simple dessert that the kids will love, try these super cute Turkey Cupcakes!
5.) No Bake Pumpkin Cheesecake
If you're looking for a dessert that doesn't have to bake, this No Bake Pumpkin Cheesecake is the way to go!
6.) Pecan Pie Bars
Give these delicious Pecan Pie Bars a try this Thanksgiving!
These Apple Pie Bites are SUPER easy to make and they're quite tastey!
8.) Crockpot Peanut Butter Cup Cake
If you're looking to make Thanksgiving Dessert in a crockpot, then be sure to try this yummy Crockpot Peanut Butter Cup Cake!
If you want to combine everyone's FAVORITE Thanksgiving Desserts, then try this Pumpkin Pecan Pie Recipe
Anyone looking for Gluten Free Desserts? This Yummy Gluten Free Pumpkin Roll is the way to go this Thanksgiving!
11.) Peanut Butter Pumpkin Fudge
You can't beat some delicious fudge! Try this Peanut Butter Pumpkin Fudge Recipe for dessert this Thanksgiving
Use your extra pie crust to make a super cute turkey on top of this tastey pumpkin pie!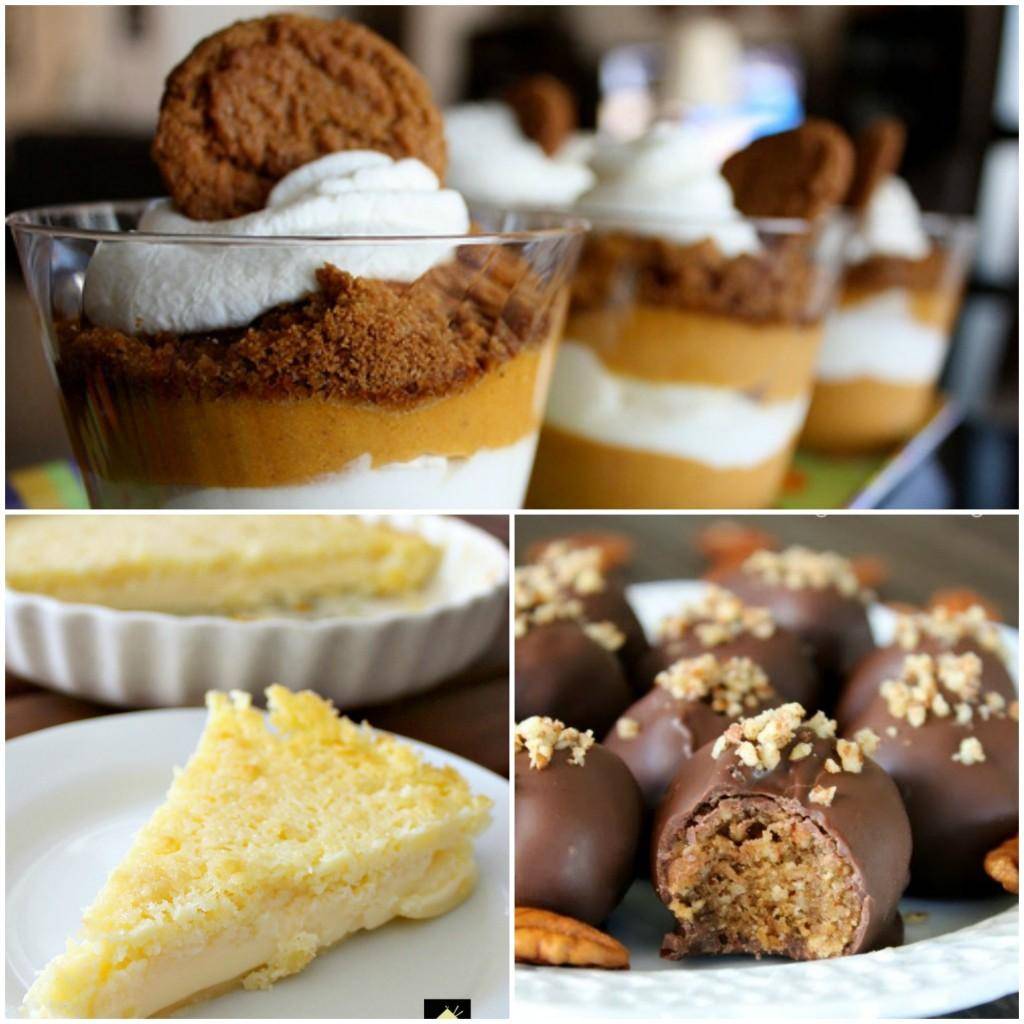 13.) Pumpkin Ginger Snap Parfait
With this great Pumpkin Ginger Snap Parfait Recipe, everyone gets their own cup of dessert!
14.) Lemon Impossible Pie
If you're want to try something a little different this Thanksgiving, give this Lemon Impossible Pie a try!
15.) Pecan Pie Truffles
The whole family will love these Pecan Pie Truffles, they're easy to make and to eat!
Here are even more Thanksgiving Dessert Recipes!
We hope you enjoy these Holiday recipes with your friends and family members!
Check out this Baked Apples Chimichangas Recipe for a fun and different Thanksgiving Dessert! This recipe will WOW your guests and they will be coming back for more! Impress your friends and family this year at Thanksgiving!
You can also try this Homemade Copycat Cracker Barrel Fried Apples Recipe! This could become one of your new family traditions!
Make sure you Follow Me on Pinterest!