Here are some no-mess foil pack dinners to make on the grill for your summer grilling. Foil pack dinners are a quick and easy way to make dinner in individual foil packets. Toss them on the grill and let them cook, and then open them up to a delicious cooked dinner. I have a ton of variety below for you to try!
Give these no-mess foil pack dinners a try this week or weekend! See how you like them. They are a favorite in our home, since it is minimal prep and little effort once you toss it on the grill!
This is a fantastic seafood option. Cooks up fast, bursting with sweet corn, black beans, tender shrimp and more for one incredible dinner.
2.) Cheesy Chicken
Chicken is always welcome in our home. This cheesy chicken with veggies wins every single time we make this on the grill. If you want a super easy no mess foil packet dinner, give this recipe a try.
3.) Southwestern Eggs
If you want a breakfast option or even eggs for dinner, give this egg recipe a try! Loads of flavor, tender potatoes, onions, and peppers cooked to perfection.
4.) Chicken Fajitas
Chicken Fajitas on the grill are incredible. There is a bit of smokey wood flavor that soaks into the onions, pepper and juicy chicken. Warm up your shells and then serve and enjoy.
5.) Apple Crisp Foil Packet from Recipes From A Pantry
Who says it all has to be about the main dishes. Here is a delicious foil packet dessert to toss on as you are finishing up dinner. Then add a scoop of ice cream and dig in.
6.) Sausage and Vegetables from My Gluten-Free Kitchen
A gluten-free dinner that kids and adults will enjoy. Make as many foil packets as you would like and cook them up and serve for a tasty summer dinner recipe.
7.) Shrimp Fajitas Foil Packet from Kitchen Laughter
This recipe pairs with an avocado dressing you can drizzle over the top of the perfectly seasoned shrimp and veggies. Eat alone or stuff into flour shells.
8.) Grilled Turkey Sausage Packets from Savoring The Good
Fresh zucchini, corn, sweet turkey sausage and more come together for one delicious foil packet that will be a winner. Whip up in minutes and toss on the grill and bake to a tender and juicy flavor.
9.) Bacon Ranch Chicken from Dinner At The Zoo
Bacon, ranch, and chicken are a triple the tasty flavors! When you pair these three ingredients together you are guaranteed one delicious meal. This foil packet dinner won't disappoint.
10.) Grilled Butter Garlic Steak & Potato Foil Pack Dinner from 4 Sons 'R' Us
Steak lovers will cheer with excitement over this foil packet dinner. It is quick to make, tender potatoes, juicy steak and seasoned just right.
11.) Grilled Asparagus in Foil from Dinner at the Zoo
This foil packet is so incredibly easy to make. This is a great side or main dish if you are having a meatless dinner. Tender and flavorful asparagus in no time.
12.) Grilled Shrimp Foil Packets from Cooking Classy
Shrimp boils are tasty, but a lot of work. This foil packet method gives you those same flavors but a fraction of the prep that is needed. Give it a try today, if you love a shrimp boil!
13.) Salmon Foil Packets from Dinner at the Zoo
Flakey salmon that is seasoned well, and a few vegetables to serve on the side. Toss on the grill to cook for a complete dinner all in one wrapped aluminum foil packet.
14.) Grilled Zucchini Foil Pack Recipe from Eating On A Dime
If you have extra zucchini from your garden on hand, whip up this grilled zucchini recipe. Simple ingredient, a few minutes prep is all you need for a tasty side dish.
15.) Foil Packet Potatoes from The Bewitchin' Kitchen
Sliced potatoes, peppers, onions and a little seasoning is all you need for this starchy side. It will cook up nicely on the grill and the smoke will infuse flavor into the potatoes.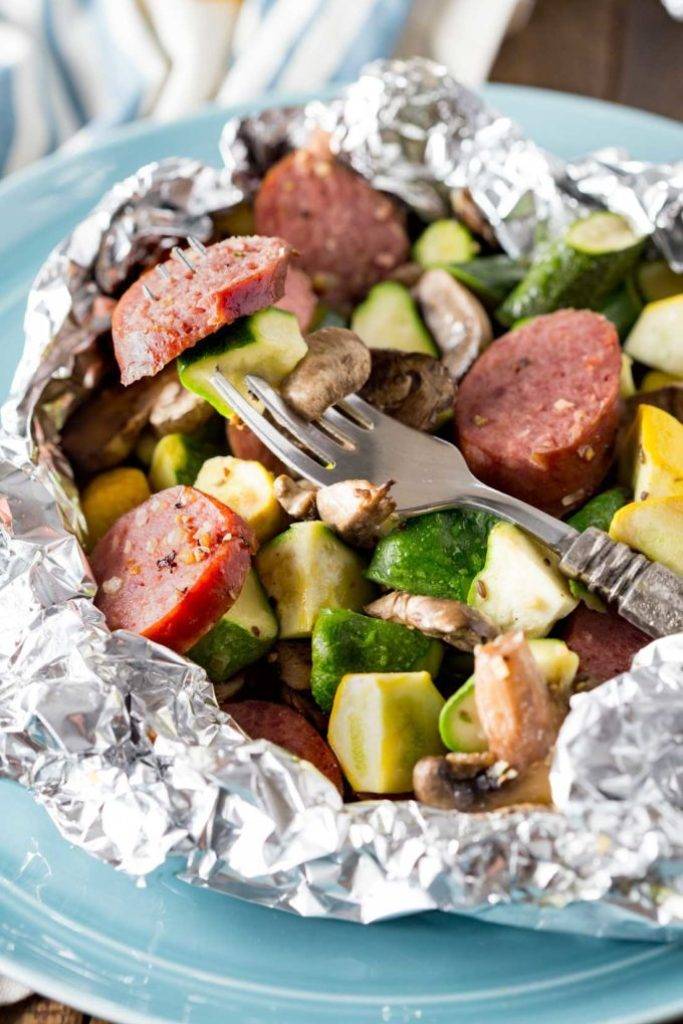 16.) Foil Packet Kielbasa Recipe from Easy Peasy Meals
Affordable, versatile and simple to make. You can use kielbasa to create a delicious meal for your camping trip or dinner at home. This is also a recipe to make extra to feed a crowd.
17.) Honey Bourbon Pineapple Chicken Foil Packets from The Novice Chef
If you enjoy sweet and savory you will go bonkers over this honey bourbon recipe. The pineapple adds sweetness along with the honey, and there is savory from the chicken.
18.) Sausage and Veggie Grill Packets from The View from Great Island
Bright, colorful, and this rainbow of colors is going to win you over with the flavor as well. A great way to fit more veggies into your diet along with the savory sausage.
19.) Garlic Potato Foil Packet from Princess Pinky Girl
Potatoes are a great side and this recipe is a winner. Crispy crusted potatoes, garlic flavor in every bite, with tender and scrumptious potatoes to pair with your main dish.
20.) Fish In Foil Packets Recipe With Lemon Butter from Melanie Cooks
If you enjoy making fish on the grill try the foil packet method. It is a great way to cook your fish while keeping it moist so you have a light and flaky fish in the end.
21.) Cheesy Grilled Potatoes in Foil from Kasey Trenum
Cheesy potatoes with melted cheese, bacon, and seasoning is always a great option. I toss this on when I am cooking up burgers, brats or steak and use it as a side. It is one easy aluminum foil grill packet.
22.) Cod, Chorizo and Potato Foil Packets from My Kitchen Love
Fish and chorizo paired together for a really unique flavor. Spicy, savory, and downright addictive. I guarantee you will keep reaching for one more bite.
23.) Grilled Foil Packet Frozen Cheese Fries from Hip2Save
A quick side you can throw together in seconds. This recipe uses frozen french fries that they dress up for a loaded cheese fry in the end!
24.) Grilled Teriyaki Chicken Foil Packets from A Mind "Full" Mom
Another great chicken recipe! This grilled chicken will win over anyone you serve it to. Make for a quick weeknight meal or have for hosting a summer cookout.
25.) Foil Packet Grilled Lemon Chicken with Potatoes from MomOf6
Lemon chicken just works! If you have some fresh lemons, chicken, and potatoes sitting around give this simple foil packer recipe a try this week.

What is your favorite foil pack dinner recipe?