The $1 Old Navy Flip Flop Sale 2020 is the most popular Old Navy Sale on Flip Flops Every Year. Typically there is a Cardholder Sale early in the Summer and a Sale for all customers towards the end of June.
The 2020 Old Navy Flip Flop Sale is coming up soon! I have been getting a lot of questions asking "When is the Old Navy Flip Flop Sale"? It's official! The date for the Flip Flop Sale is expected to be 6/13, based on last year's dates! Plus don't forget that right now there are some great Old Navy Coupons and Sales that are currently going on so you don't have to wait for the Flip Flop Sale to save money on Summer at Old Navy!
Last year Cardholders were able to shop the sale one day early with their Old Navy Credit Card or Gap Family Brand Credit Card!
But that's not all…...BEFORE NOON you could score a FREE Pair of Flip Flops with every $24 or more purchase!!
$1 Old Navy Flip Flop Sale
The $1 Old Navy Flip Flop Sale has become famous in the last few years because it's a great chance to get Old Navy's Classic Flip Flops for the entire family for just One Dollar per pair!
Normally the Limit on Old Navy Flip Flops is 10 per Cardholder or Customers – While Supplies Last.
I always recommend marking this date on your calendar now even though these are just expected dates for the sales, they are not confirmed dates yet! I still like to have a good idea of when it's coming up so I can check back in with Old Navy or Check my email that morning and make sure that I get to the store early to shop!
Click Here to Shop Old Navy Flip Flops Online!
When is the $1 Old Navy Flip Flop Sale?
The Old Navy Flip Flop Sale is expected to be Saturday June 13th!
Old Navy Flip Flop Sale 2020 Dates
Old Navy Flip Flop Sale for Cardholders – Friday June 12, 2019
Old Navy Flip Flop Sale for Everyone – Saturday June 13, 2019
There will be a limit of 10 pairs per customer at both sales! The Cardholder sale has not been confirmed yet, I'll update this information as soon as we have the dates confirmed and let you know on Facebook!
HOT TIP: Click Here to Sign Up for Email Updates so that you'll be Notified when the Sale is Confirmed!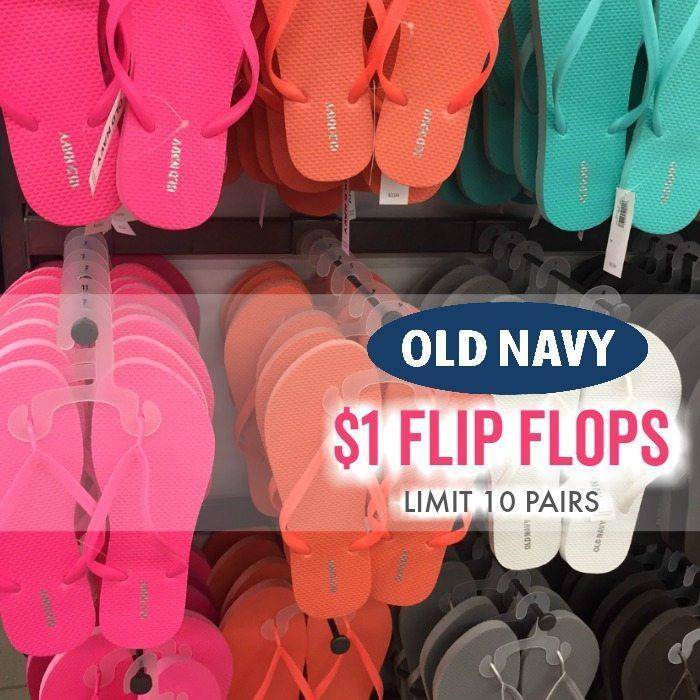 2020 Old Navy Flip Flop Card Holder Sale
Normally the first Flip Flop sale we see is for Old Navy Cardholders. But you don't actually have to be an Old Navy Card Holder to shop this sale. If you have any of the Gap Brand Credit Cards including the Banana Republic Card or the Gap Card you can also shop the Card Holder Sale. Just let the cashier know at checkout!
What to Do Before the Old Navy Flip Flop Sale
I always get excited about the Flip Flop Sale at Old Navy early in the year, so one thing that I always try to do is take my kids into the store and try on the different sizes BEFORE the sale starts! It's always a crazy day and hard to get to the Flip Flops when the sale actually happens, so I normally don't like to drag my kids with me on the actual sale day.
By going to the store a few weeks early I can write down the colors & sizes my kids love and then go back and get exactly what I need quickly on the day of the actual sale.
Is the Old Navy Flip Flop Sale Online?
Last year the Old Navy Flip Flop Sale was In-Stores Only on the first few dates, then it was available online on the Sunday after the In-Store Sale. I expect that they may offer the sale online again this year, but we do not have confirmed dates yet.
Keep in mind that the Old Navy Flip Flop Sale Online is still only $1 per pair, but there is a minimum $50 requirement for Free Shipping when you Shop OldNavy.com so you might want to plan to grab this deal in stores unless you are planning on buying some other items already.
How Many Pairs of $1 Flip Flops Can I Purchase?
The last 3 years the limit on the Old Navy Flip Flop Sale has been 10 per customer. If you need more than 10 pairs of Flip Flops you might want to consider bringing along a friend or family member to shop with you!
Will the Old Navy Flip Flop Sale Happen More than Once a Year?
Last year we saw 3 different sale weekends. We saw the original Card Holder Sale that happens early in the year, then we saw the Famous $1 Old Navy Flip Flop Sale in the middle of June and then there was a final summer sale at the end of Summer before Back to School in July.
The best sale to shop is actually the first card holder sale because you'll have the best selection of colors and styles to choose from.