This is a sponsored post for savings.com. All opinions are my own.
Dr. Scholl's Printable Coupon saves you $10 on new Custom Fit Orthotic Inserts! Do you have aching feet or lower back pain? Get your custom fit today!
Dr. Scholl's Printable Coupon – Save $10
Dr. Scholl's Custom Fit Orthotic Inserts
Yesterday I went by my local Walmart to try out the  Dr. Scholl's Custom Fit Kiosk! I wanted to find out about these and actually try the process out myself. I found the kiosk in the Pharmacy area.
It really only takes a couple of minutes and it's well worth your time to get a custom fit recommendation! Each of us puts different amounts of pressure on our feet so with this custom fit process there will be a report with the inserts you should choose when you're all finished.
I was glad to see some disinfecting wipes so I quickly wiped off the feet area, because the next thing you have to do is stand on the machine for the testing to begin.
The Footmapping technology is pretty cool because it really does show the areas of your feet that you put the most pressure on, the length of your foot and how much of an arch you have.
I had to lean a little to get the targets lined up so my foot could be measured correctly. It was really a neat machine and I was impressed with how it was able to detect so much about my feet. I like custom experiences that I can do on my own, without having to wait for someone to help me! It was pretty much foolproof and the instructions were easy to follow.
Once my feet were analyzed, my results were given to me so I could select the Dr. Scholl's Orthotic Inserts that were the perfect fit for me!

I have a high arch and put a lot of pressure on my feet, so the Yellow 110 custom fit product was suggested to me. There were 14 different Inserts for various feet types available.
Don't let pain in your feet keep you from doing the things you love. Get back on those feet of yours and go check out the Dr. Scholl's Custom Fit Kiosk at select local Walmart stores. Don't forget to take your Dr. Scholl's Printable Coupon with you for BIG Savings!
Plus, if you receive Valpak envelopes, don't forget to check there for an additional coupon!
GIVEAWAY – TEN $50 Walmart Gift Cards
In support of the Dr. Scholl's coupon that is being offered TEN people that enter the Giveaway will be randomly chosen to win a $50 Walmart Gift Card. There's no reason you can't enter, you may just be one of the ten lucky winners!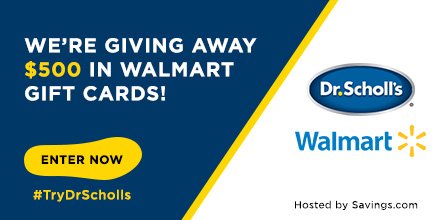 Enter Walmart Gift Card Giveaway
ENTRY PERIOD: Giveaway starts on Monday, August 21st at 12:00 AM ET. Giveaway ends on Sunday, August 27th at 11:59 PM ET.
Check out all my recent posts about more great deals at Walmart!
Disclosure: This post is sponsored by savings.com. I was compensated to share this post with you, however all thoughts and opinions are my own.