I am LOVING these Cents of Style Sweaters on Sale! I have an awesome coupon code for you for the Cents Of Style Striped Cardigans on sale. Everyone loves a classic Cardi and these are no exception!
Cents Of Style Sweaters On Sale
Cents of Style has SO many great Striped Cardigans on Sale right now! Plus use Coupon Code STRIPES to take 40% off the lowest marked price and FREE Shipping!!!
This Stripe Cardigan by Cents of Style normally goes for $44.95. But enter Coupon Code- STRIPES and you can get this Sweater for only $29.97 + FREE SHIPPING!!! This is a great deal for me since Cardigans are my absolute favorite fall go-to accessories.
Cardigan options
Is it possible to wear Cardigans too often?? If so, I definitely do! I love them over dresses, with jeans, dress pants, or even skirts. It's just comfy and cute! These Stripe Cardigans would be a great staple piece in any woman's closet. The hard part is just deciding what color pattern to chose!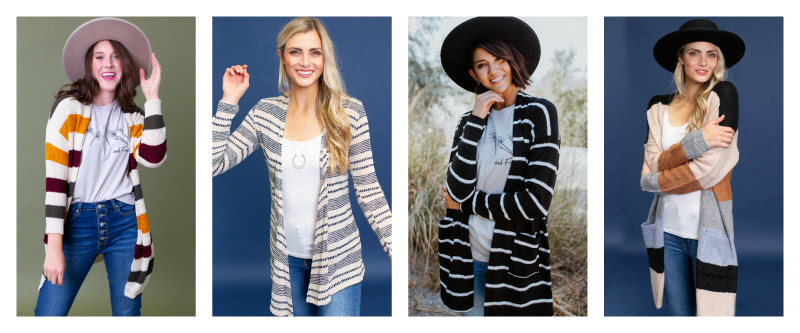 Sweater Options
Thes Cardigans come in so many great color patterns to choose from and in sizes from S-XL! I really don't think you could go wrong with any of these color options. I always find myself buying anything with mustard color in my Fall clothes so I may need to branch out and try a new color in this!
Head on over to Cents Of Style to check out this great deal! Don't forget when purchasing to use Coupon Code– STRIPES to score this Sweater for just $19.99 + FREE Shipping!!