Today I'm sharing my Pillsbury Chocolate Chip Cookie Dough Recipe that will let you make your own Slice & Bake Cookie Dough to keep in your Fridge so you can pull it out and make cookies at just the right time :) These cookies are so delicious and a great way to make and keep cookie dough if you want to have a few freshly baked cookies at a time.
Make sure you Follow Me on Pinterest!

You just follow the directions for the Pillsbury Chocolate Chip Cookie Dough Recipe then roll it up and store in the fridge. After that it's ready to Slice and Bake just a few or the entire batch! This is also great if you want to make the dough ahead of time but then save it for a party or when you know you are having friends and family over.
I love keeping a Roll of Cookie Dough in my fridge all the time! That way, if someone is coming over unexpectedly, I don't have to run out and grab a snack or dessert. Because I've got one pre-made in the fridge! My kids love it too because it's so easy to just bake a few for an afternoon snack or an after-dinner dessert!!
One more thought, if you are taking dinner to a family who just had a baby this would also be another cute gift idea, they can make as many as they want at a time and they won't have to get their kitchen messy :)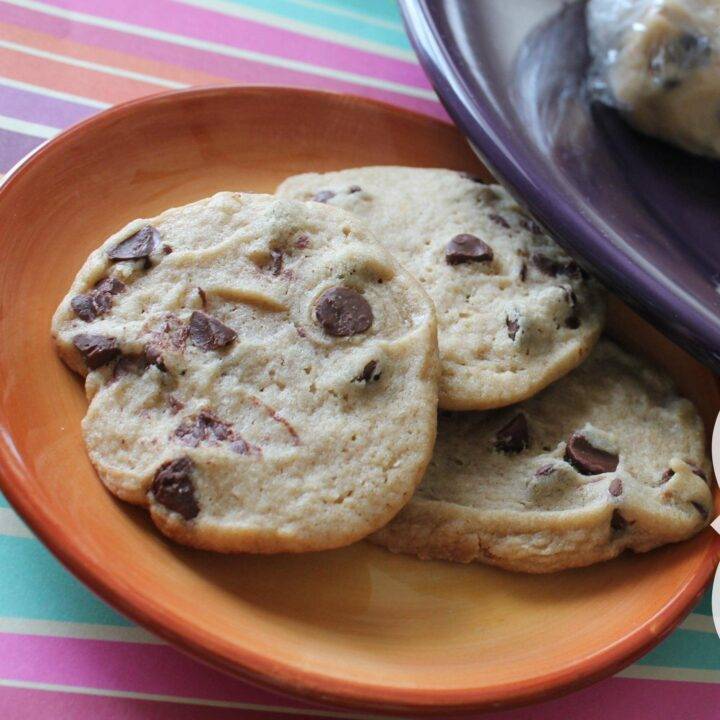 Pillsbury Chocolate Chip Cookie Dough Recipe
Always have cookie dough on hand so you don't have to do all the mixing AND all the baking every time you want some delicious Chocolate Chip Cookies!!
Ingredients
1 1/2 Sticks Butter
1 1/4 Cups Brown Sugar
2 Tbsp. Milk
1 tsp. Vanilla
1 Large Egg
2 Cups Flour (All Purpose)
1/2 tsp. Salt
1/2 tsp. Baking Soda
6 oz. Chocolate Chips
Instructions
Combine Butter, Brown Sugar, Milk, and Vanilla in a bowl and mix well
Add in Egg and Beat Well
Slowly add in Flour, Salt and Baking Soda Mixture and Stir until Blended
Add in Chocolate Chips
Lay 2 Pieces of Cling Wrap Flat on Counter
Spray with Non-Stick Spray
Divide Mixture in Half and put roll each half in a ball, then in a long snake
Roll Up in Cling Wrap and Chill 2-3 hours or Overnight
Slice Cookies about 1/2" Thick and place on a greased cookie sheet
Bake at 350 Degrees for 9 - 10 Minutes
Make sure you check out our Saving Money Blog and also our How to Coupon Page for more tips, tricks and videos on saving money and using coupons.