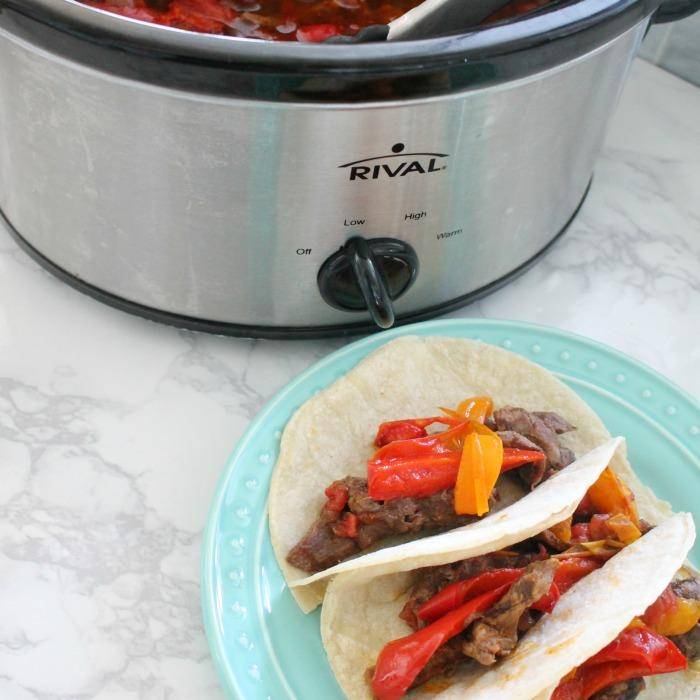 I have a super delicious Slow Cooker Steak Fajitas Recipe for you today! If you're tired of the same old stuff for dinner then be sure to give this amazing recipe a try today!
This Slow Cooker Steak Fajitas Recipe is easy to make and it's perfect for those busy nights, you can just put everything in the crockpot and it'll be ready to put on the plate when you are. If you're wanting a new recipe for your slow cooker then look no further, this is the perfect recipe for you to try today.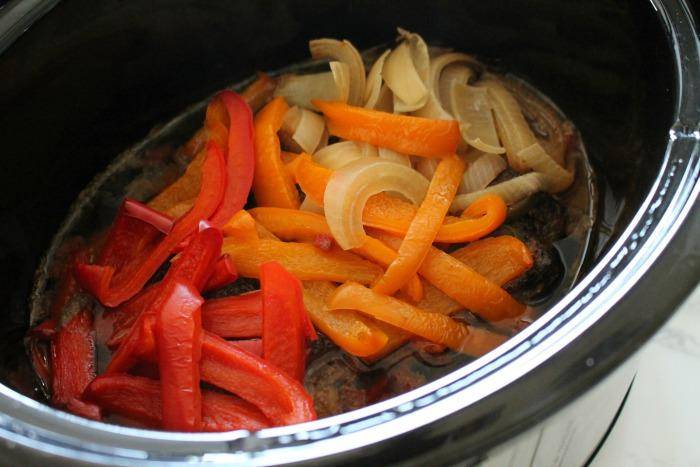 I am loving this great new Steak Fajitas Recipe, it tastes amazing and my whole family loves it PLUS you make it in the crockpot so it doesn't take up a whole lot of your time. This has become one of my family's favorite recipes, my kids are always asking me to make it and it's so easy, I love it.
One of my favorite things about crock pot recipes is how easy they are and that I can just toss everything in and turn it on. Then when I come back it's all ready to have for dinner and it's super delicious! This is the perfect recipe to try for your family tonight so be sure to test it out and you can let me know what you think.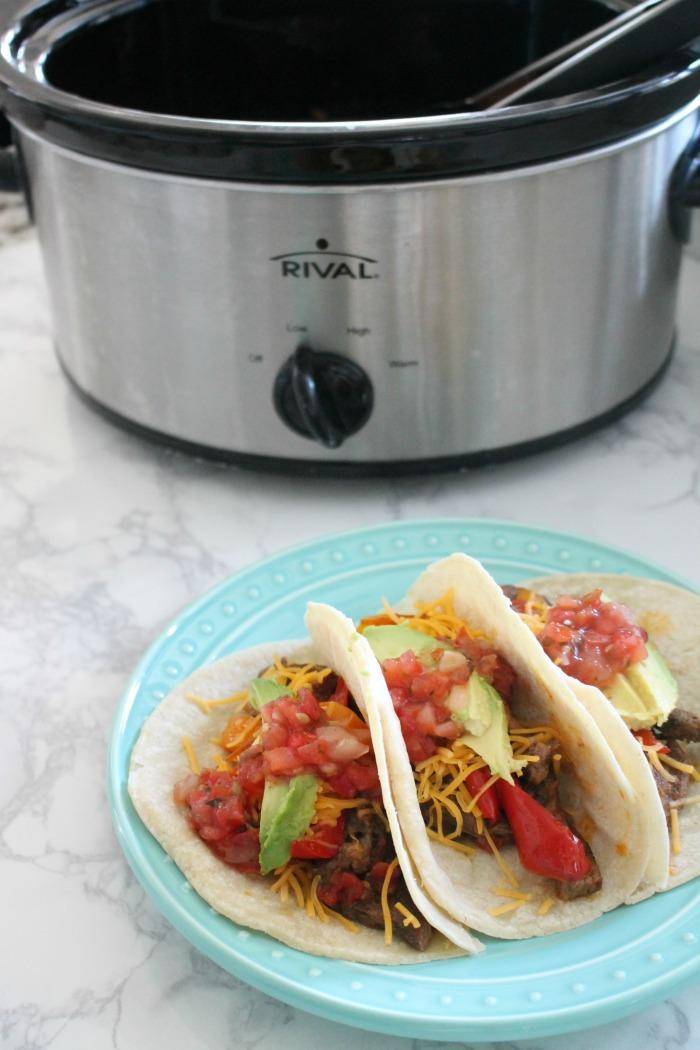 Give this great fajita recipe a try tonight, I guarantee your family will love it and you'll love how easy it is to clean up. Grab all these ingredients at your local store and give this a try today.
Here's what you'll need to make this delicious recipe:
1 1/2 lbs. of Flank Steak sliced thinly
1 10 oz. Can of Diced Tomatoes with Green Chilis
2 Large Bell Peppers (I prefer Red or Yellow)
1 Medium Onion
2 tsp. Chili Powder
1 tsp. Salt
1 tsp. Paprika
1/2 tsp. Onion Powder
1/2 tsp. Garlic Powder
1/4 tsp. Cayenne Pepper
1/2 tsp. Cumin
Cheese, Sour Cream, Avacado (For toppings)
Tortillas
Here's how you make this great recipe in the crockpot:
Pour Diced Tomatoes and Green Chilis in the bottom of your slow cooker.
Top with Sliced Steak
In a bowl combine Seasonings and mix well
Sprinkle seasoning over steak
Top with Bell Peppers and Onion
Cover and cook on low 5-6 hours or high for 3-4 hours
Serve in Tortillas or on a Bed of Lettuce with your favorite toppings
Slow Cooker Steak Fajitas Recipe
Ingredients
1 1/2 lbs. of Flank Steak sliced thinly
1 10 oz. Can of Diced Tomatoes with Green Chilis
2 Large Bell Peppers (I prefer Red or Yellow)
1 Medium Onion
2 tsp. Chili Powder
1 tsp. Salt
1 tsp. Paprika
1/2 tsp. Onion Powder
1/2 tsp. Garlic Powder
1/4 tsp. Cayenne Pepper
1/2 tsp. Cumin
Cheese, Sour Cream, Avacado (For toppings)
Tortillas
Instructions
Pour Diced Tomatoes and Green Chilis in the bottom of your slow cooker.
Top with Sliced Steak
In a bowl combine Seasonings and mix well
Sprinkle seasoning over steak
Top with Bell Peppers and Onion
Cover and cook on low 5-6 hours or high for 3-4 hours
Serve in Tortillas or on a Bed of Lettuce with your favorite toppings