I have 20 Amazing Gifts Made from Christmas Candy that people will love to get this year! If you're looking to make some fun candy gifts this year be sure to check these out!
20 Amazing Gifts Made from Christmas Candy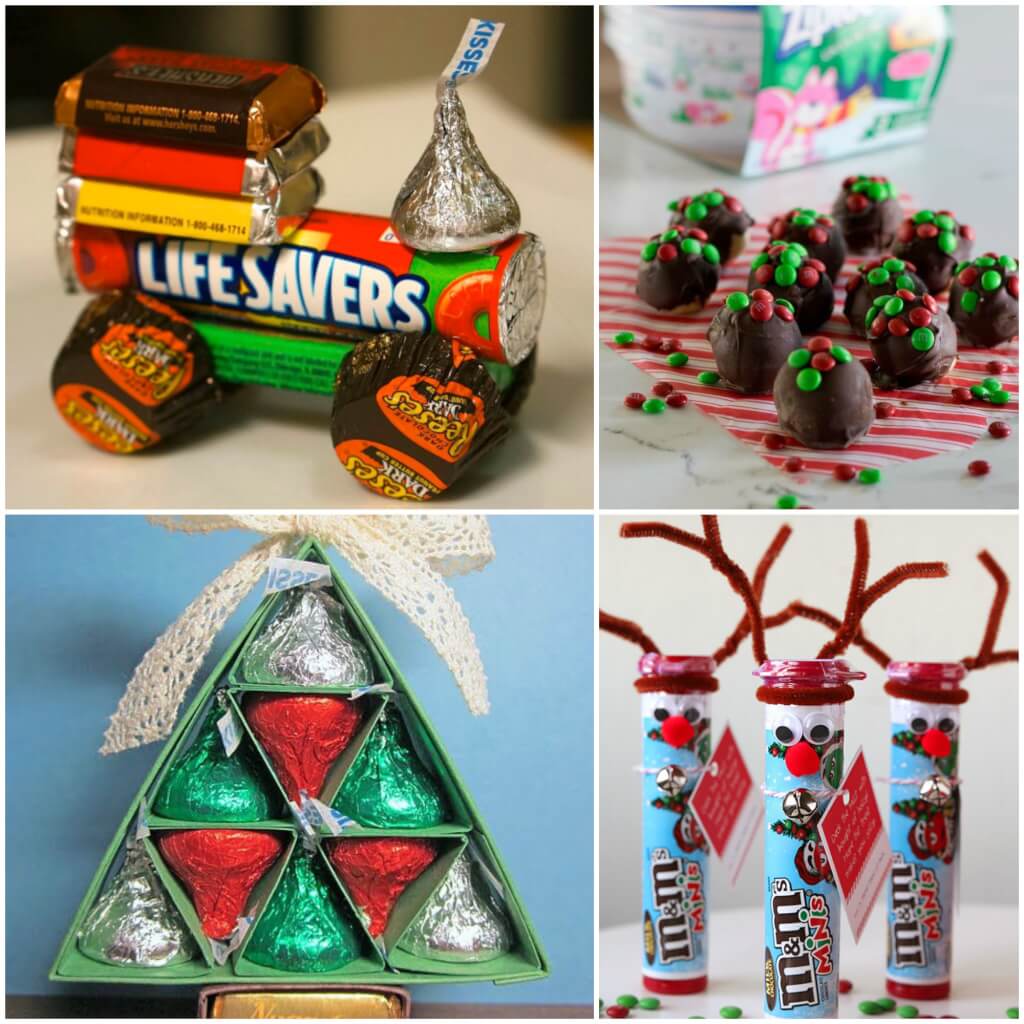 These super cute Christmas Candy Trains will make super fun gifts
2.) No-Bake Cake Batter Truffles
Make some of these delicious No-Bake Cake Batter Truffles and give them out to friends and neighbors this Christmas
3.) M&M Reindeer
Grab the Mini M&Ms containers and decorate them to look like reindeer for the perfect Christmas candy gift
4.) Hershey's Kisses Christmas Tree
Make these super cute Hershey's Kisses Christmas Trees, they're simple!
Grab some Christmas Candy at the store and make these adorable Santa Sleighs
6.) Peppermint Bark Candy Cane Hearts
If you want to make something cool and homemade, try out these Peppermint Bark Candy Cane Hearts
7.) Merry Christmas Candy Bars
Make any candy bar a Christmas Candy Bar with these free printables
8.) Holiday Chex Mix
Make Holday Chex Mix and find some cute containers to give them as gifts
Make these great Reindeer Candy Canes with your kids
10.) Rudolph Snack Pack Pudding Cups
These awesome Rudolph Snack Pack Pudding Cups are perfect for kids class gifts this Christmas
11.) Rolo Candy Christmas Hugs
Make these yummy Rolo Candies to make 'Christmas Hugs' this year
12.) Reindeer Christmas Treats
Make these Reindeer Christmas Treats, bag them up and then give them out this Christmas
13.) Peanut Butter Fudge Candies
Make some delicious Peanut Butter Fudge Candies and find some fun packages to give them as gifts to friends this Christmas
14.) Reindeer Noses
These Reindeer Noses are too cute and they'll be a big hit this Christmas
15.) Christmas Crack
This Christmas Crack Candy will be a big hit with anyone so make it and give it as the perfect gift
16.) Red and Green M&M's
Grab the Christmas M&Ms and use plastic bags for a super simple Christmas gift
17.) Make "Santa Kisses"
Grab some Hershey's Kisses Candies and make these cute Santa Kisses
18.) Holly Jolly Candy
Grab some of the large Jolly Ranchers, tie them together with a ribbon and use a tag that says 'Have a Holly JOLLY Christmas'
YUM! These Candy Cane Heart Pops are adorable and fast and easy to make!
20.) Reindeer Candy Bars
Grab some candy bars and then use these free printables to make reindeer candy bars