Amazon Subscribe & Save Deals are the BEST! I have a list of my favorite 10 deals that you can get right now! There are stock up deals on Paper Towels, Chips, and more!
Amazon Subscribe & Save DealsGo
I can't deny that I love to get whatever groceries I can online with Amazon Coupons and Subscribe and Save! It's so easy and convenient to just have essentials like toilet paper, snacks, trash bags, and more sent right to my house at Stock Up Prices! There are so many good ones going on right now, so I wanted to show you 15 AWESOME Amazon Subscribe & Save Deals You Can't Miss! Remember that when you Subscribe to 5 items in the same month, you get another 15% off all of it! And make sure you check out the Amazon Prime Day Deals!
How does Amazon Subscribe & Save work?
With Subscribe & Save, you can regularly schedule deliveries and get extra savings! When you subscribe to five or more products at one address on your monthly delivery day you will get an additional 15% off! You can choose from thousands of eligible products in the Subscribe & Save store. You have the option of selecting your delivery frequency and create your subscription, and you can even skip your deliveries or cancel your subscriptions at any time. Before each delivery, you will get a reminder email showing the item price and any applicable discount for your upcoming delivery. The price of the item may decrease or increase from delivery to delivery, depending on the current pricing on Amazon. I always check those emails to make sure the price is still where I want it to be, or else I skip ;)
Amazon has the Viva Choose-a-Sheet Paper Big Plus Towels Roll, White, 24 Count (equals 34 regular rolls) for $27.78 when you use Subscribe and Save or just $23.78 after the $4 off Amazon Viva Paper Towels Coupon you can clip! That is $0.70 per regular roll!
Amazon has Tropicana Orange Juice 24 Packs of 10 oz. bottles on sale for just $11.83! That is just $0.49 per bottle which is a fantastic price on 100% Juice! These are normally around $25 per case so act fast. The last time this deal was around it didn't last long!
Right now, you can get this Coppertone Sunscreen 3 Pack for just $14.52 when you clip the $4 off coupon located below the price! That's only $4.84 per bottle! Shipping is free with Amazon Prime.
They have this pack of 16 EXPO Dry Erase Markers in Assorted Colors marked down to $6.99 which comes out to only $0.50 per marker! That is the cheapest price I have seen on these so far this year!
There is a new 10% off coupon to clip! These Banana Boat Sunscreen Spray 2 Packs are priced at $11.85 with Subscribe and Save, and the 10% off Coupon drops the price to only $10.65 which is $5.33 each. Considering I have hardly seen any coupons for Banana Boat at all this year, this is a great deal and you don't have to leave home!
There is a new $2 off Tide Amazon Coupon you can clip on Prime Pantry Tide purchases!  See other Tide Coupons here.
There are a bunch of different Tide items you can buy with this $2 coupon! Amazon has the 2 count Tide Plus Downy April Fresh Scent Liquid Laundry Detergent priced at $11.97 plus you can clip the $2.00 OFF ONE Tide Detergent Amazon coupon.  That is just $9.97 for both or only $4.99 each! You must buy 5 qualifying products for Free Shipping on Prime Pantry or it's $5.99 shipping cost added to your order.  Here are more Prime Pantry Items.
You can get a 3-count pack of Cheez-It® Crackers Family Size Boxes for $2.99 per box shipped when you clip the 20% off coupon located below the price and select Subscribe & Save! You'll pay just $8.97 after coupon – just $2.99 per box!
 This 80-count pack of Welch's® Fruit Snacks for $10.99. That's only $0.14 per snack pack!
There are new 20% off Babyganics Sunscreen Coupons you can clip and score awesome deals that you won't even see in stores.
See all my deal ideas here.
This 58 ct. Quaker Chewy Bars and Dipps Variety Pack is on sale for $9.99 with Subscribe & Save and you can clip a $2 coupon that will get you this variety pack for $7.99! That is WAY less that you would pay for this in stores at just $0.13 per bar!
Amazon has these Tide Pods HE Turbo Laundry Detergent Pacs 81-load Tubs for $18.97 and when you use the $3 Tide Pods Coupons Online, you will pay $15.97 shipped with subscribe and save!  That works out to be just $0.19 per load which is a great deal for Tide Pods online!
They have this BIG 30 Pack of Elmer's Glue Sticks pack for $9.86 which comes out to $0.33 per glue stick and that is a nice price to get shipped right to you if you need a bunch for the classroom!
The 94 ct. Finish All in 1 Powerball Tab is on sale for $14.17 after you check the box for Subscribe and Save which is only $0.15 per load!
Amazon has a set of 2 All Mighty Pacs Super Concentrated Laundry Detergent 67 ct. Tubs for only $17.98 when you select Subscribe & Save!  That is just $8.99 per tub or only $0.13 per load! That is a HOT price-even better than in stores, and you don't have to leave home to get it!
Amazon has several different Coupons to Clip for Huggies! There are stock up deals on EVERY SIZE!
See all of the details here.
Check out all of the deals in the Subscribe & Save store because there is so much more you will love to save on right now!
One of the things I'm doing more of this year is Shopping Online! I LOVE Amazon Subscribe and Save and I'm going to try to hit my 5 items per month each month so that I can take advantage of the 15% Subscribe and Save Discount each month!
Here are a few tips for saving 15% With Subscribe and Save:
1. You can increase your Subscribe and Save Discount from 5% to 15% when you order 5 Subscribe and Save items in the same month.
2. Check your Subscribe and Save Shipment Date in your account, Mine is the 6th of each month, so I just have to buy 5 Subscribe and Save Items before that date and they will automatically increase my discount from 5% to 15% when I order my 5th item.
3. You do not have to order all 5 items at one time, but it's sometimes easier that way! You can also order more than 5 items per month and every item over 5 also gets the 15% discount!!! See all the Subscribe and Save Items Here.
4. Set your Delivery Time Frame to 6 months on each item, You can cancel at any time under "My Account, Manage Subscribe and Save" and that gives you plenty of time to decide if you want the item shipped again!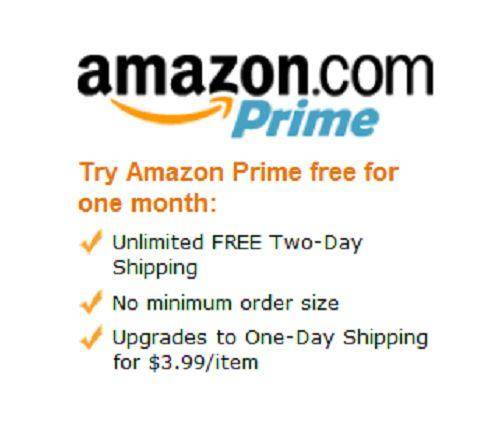 Right now you can grab a FREE 30 Day Trial to Amazon Prime and get Free 2 Day Shipping on thousands of items sold by Amazon.com.
Plus, don't forget to checkout the Amazon Deals Page for all the latest Amazon Deals!
Pricing subject to Change at any time. Please make sure you check the current price on Amazon.com before purchasing.