Amazon Subscribe & Save Deals are the BEST! I have a list of my favorite 12 deals that you can get right now! There are stock up deals on Paper Towels, Chips, and more!
Amazon Subscribe & Save DealsGo
I can't deny that I love to get whatever groceries I can online with Amazon Coupons and Subscribe and Save! It's so easy and convenient to just have essentials like toilet paper, snacks, trash bags, and more sent right to my house at Stock Up Prices! There are so many good ones going on right now, so I wanted to show you 12 AWESOME Amazon Subscribe & Save Deals You Can't Miss! Remember that when you Subscribe to 5 items in the same month, you get another 15% off all of it! And make sure you check out the Amazon Prime Day Deals!
How does Amazon Subscribe & Save work?
With Subscribe & Save, you can regularly schedule deliveries and get extra savings! When you subscribe to five or more products at one address on your monthly delivery day you will get an additional 15% off! You can choose from thousands of eligible products in the Subscribe & Save store. You have the option of selecting your delivery frequency and create your subscription, and you can even skip your deliveries or cancel your subscriptions at any time. Before each delivery, you will get a reminder email showing the item price and any applicable discount for your upcoming delivery. The price of the item may decrease or increase from delivery to delivery, depending on the current pricing on Amazon. I always check those emails to make sure the price is still where I want it to be, or else I skip ;)
Enjoy Life Chocolate Deal
If you or any of your kiddos have food allergies, you can get these Enjoy Life Chocolate Bars for a great price! They are Soy free, Nut free, Gluten free, Dairy free, Non GMO, Vegan, and Paleo friendly. They have the 24 ct. Dark Chocolate Bars for $39.99 and there is a 30% off coupon to clip. That drops the price to $27.99 or only $1.17 per bar! There are other flavors available with the 30% off coupon, too!
Pampers Wipes Deal
The 576 ct. Pampers Sensitive Water-Based Baby Diaper Wipes are priced at $13.86 and there is a $1 coupon to clip which drops them to $12.86-only $0.02 per wipe!
Lysol Deal
The 320 ct. Lysol Wipes are $12.47 and there is a 20% off coupon to clip! That drops the price to $9.97 and that comes out to only $0.03 per wipe!!!
Similac Baby Formula
You will see that you need to check the box for Subscribe and Save in order to get the 35% off coupon. The Similac Sensitive 3 Pack for $89.17 with Subscribe and Save or just $57.96 after the coupon. That is only $19.32 per tub, or $0.55 per ounce which is UNDER my stock up price. We haven't seen any deals that cheap in a long time!
They also have the Similac Advance included with the 35% off! The 3 Pack of 36 oz. Similac Advance is $92.04 when you check the box for Subscribe & Save! After you clip the 35% off coupon, you will pay $59.83. That is just $19.94 per tub-just $0.55 per ounce!
Earth's Best Diaper Deals
I have new 15% off Amazon Coupons you can use to get Stock Up Prices on Earth's Best Diapers and Wipes Online! You can Clip the 15% off Coupon on the page for Earth's Best Diapers which makes some amazing deals that you won't find in stores!
Stretch Island Fruit Leather Deal
Get this 30 pack All-Natural Stretch Island Fruit Leather for $11.32 when you use Subscribe and Save,  Plus shipping is FREE with any Subscribe & Save purchase.
Annie's Bunny Fruit Snacks Deals
Amazon has this Annie's Organic Bunny Fruit Snacks, Variety Pack with 24 Pouches priced at $14.17 with Subscribe and Save and just $13.17 after the $1 coupon which comes out to $0.55 per snack!
Cottonelle Toilet Paper Deal
Right now Amazon has the 36 ct. Family Rolls of Cottonelle Ultra Care Toilet Paper on sale for just $20.88 when you use Subscribe and Save! Plus when you clip the $1 coupon on the product page you will pay only $19.88 + get FREE Shipping!
K-Cups Deals
Get 6 boxes of Donut Shop K-Cups for $28.79 total. There are 12 k-cups in each box for a total of 72 k-cups. That makes each k-cup only $0.40– below my stock-up price of $0.50 per k-cup!
They have this BIG 30 Pack of Elmer's Glue Sticks pack for $9.85 which comes out to $0.33 per glue stick and that is a nice price to get shipped right to you if you need a bunch for the classroom!
Amazon has a set of 2 All Mighty Pacs Super Concentrated Laundry Detergent 67 ct. Tubs for only $18.98 when you select Subscribe & Save!  That is just $9.49 per tub or only $0.14 per load! That is a HOT price-even better than in stores, and you don't have to leave home to get it!
Amazon has several different Coupons to Clip for Huggies! There are stock up deals on EVERY SIZE!
See all of the details here.
Check out all of the deals in the Subscribe & Save store because there is so much more you will love to save on right now!
One of the things I'm doing more of this year is Shopping Online! I LOVE Amazon Subscribe and Save and I'm going to try to hit my 5 items per month each month so that I can take advantage of the 15% Subscribe and Save Discount each month!
Here are a few tips for saving 15% With Subscribe and Save:
1. You can increase your Subscribe and Save Discount from 5% to 15% when you order 5 Subscribe and Save items in the same month.
2. Check your Subscribe and Save Shipment Date in your account, Mine is the 6th of each month, so I just have to buy 5 Subscribe and Save Items before that date and they will automatically increase my discount from 5% to 15% when I order my 5th item.
3. You do not have to order all 5 items at one time, but it's sometimes easier that way! You can also order more than 5 items per month and every item over 5 also gets the 15% discount!!! See all the Subscribe and Save Items Here.
4. Set your Delivery Time Frame to 6 months on each item, You can cancel at any time under "My Account, Manage Subscribe and Save" and that gives you plenty of time to decide if you want the item shipped again!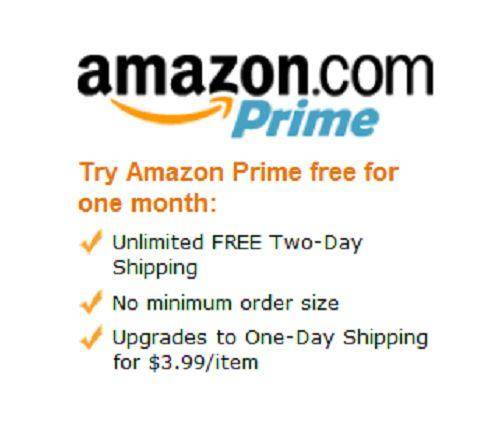 Right now you can grab a FREE 30 Day Trial to Amazon Prime and get Free 2 Day Shipping on thousands of items sold by Amazon.com.
Plus, don't forget to checkout the Amazon Deals Page for all the latest Amazon Deals!
Pricing subject to Change at any time. Please make sure you check the current price on Amazon.com before purchasing.