Do you love Panda Express? It's one of our favorite fast-food restaurants for a quick Asian food fix! And today, I found some really awesome Panda Express Coupons & Deals that can help my fellow Panda Express lovers save more on their favorite goodies! And while you're here, be sure to check out all of the other awesome Family Meal Deals we have found for you!
Panda Express Coupons & Deals
If Panda Express is one of your favorite places to eat then make sure you check this out! Right now, you can score a FREE A La Carte Entree with the purchase of Panda Express Wok-Fried Shrimp with coupon code WOKFIRED at checkout!
You can start your order with the Panda Express app/Website and add any meal with a Wok-Fried Shrimp product (bowl, plate, bigger plate, cub meal/family meal). Some locations do offer delivery but you will want to check with your local Panda to see if it's an option! You can go here to get started.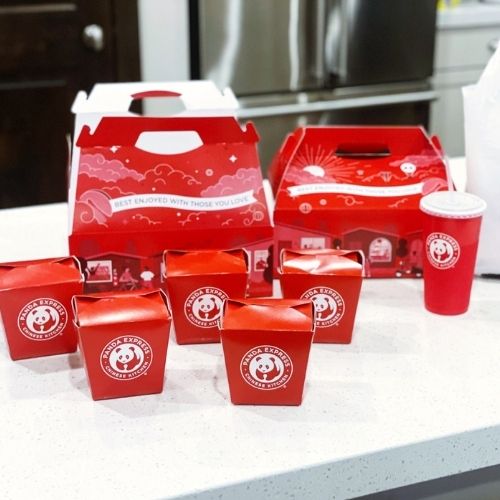 Panda Express Family Meal
One of our favorite ways to feed our family is with the Panda Express Family Meal! Right now, head on over to Panda Express' website to score the family express meal for only $29! This meal includes two large sides, three large entrees, and can feed 4-6 people! We like that the meal has plenty of variety so everyone can find something they enjoy.
To start you will pick your sides. You can choose from Chow Mein, Fried Rice, White Steamed Rice, Super Greens, or Brown Steamed Rice. I like that the Family Meal allows you to pick 2 large sides. That gives your family choices and we like choices.
Once you have picked your sides, you will choose your 3 Entrees. Panda Express has Firecracker Chicken Breast, Honey Sesame Chicken Breast, Orange Chicken, Broccoli Beef, Kung Pao Chicken, SweetFire Chicken Breast, and more! The variety is good for us and we all get something we enjoy.
We love doing this when we plan a family game or movie night! There's just something about Chinese takeout that gets everyone excited.
Sounds yummy, right!?! Click here to start your order now!