I swear, my kids grow an extra stomach during the Summer! I have to save every dollar on snacks that I can, and that is really easy with Amazon Subscribe and Save! It's so simple to use, and I always get a great price which is the most important thing ;) I want to show you how you can Save on Summer Snacks With Amazon! These are some of my personal favorites that I get for my kids! Remember that when you Subscribe to 5 items in the same month, you get another 15% off all of it!
What is Amazon Subscribe & Save?
With Subscribe & Save, you can schedule deliveries of your groceries and more and get discounts on your purchase! When you subscribe to five or more products at one address, on your delivery day you will get an another 15% off! That is how you can really save big when you buy these items in bulk. I highly recommend doing five in one purchase so you can get that bigger discount! There are thousands of eligible products in the Subscribe & Save store, and you can select how often you want your items delivered. You can even skip your deliveries or cancel your subscriptions at any time! Before each delivery, you will get a reminder email showing the item price and any applicable discount for your upcoming delivery. The price of the item may decrease or increase from delivery to delivery, depending on the current pricing on Amazon. I always check those emails to make sure the price is still where I want it to be, or else I skip ;)
I love these for myself :) The Sensible Portions Garden Veggie Straws 24 Packs are down to $13.85 which comes out to $0.58 each.
My family loves dried coconut, and this brand is REALLY good! The Dang Toasted Coconut Chips Caramel Sea Salt 12 ct. is priced at $28.48 and the 20% off coupon will drop the price to $22.78!
You gotta have some fruit snacks ready! These Welch's Fruit Snacks 36 ct. Variety Packs are priced at $19.75, but the $3 coupon drops the price to $16.75-$0.47 per bag!
Who doesn't love these?! The Doritos Cool Ranch 40 ct. pack is $13.66, and there is a coupon to clip for $2.50 off-just $11.16! That comes out to $0.28 per bag!
Amazon has this Annie's Organic Bunny Snacks, Variety Pack with 36 Pouches priced at $11.38 with Subscribe and Save which comes out to $0.32 per snack! That's cheaper than the Walmart price ;)
Here is a great healthier treat! The Bare Baked Crunchy Apple Chips 24 ct. Pack is priced at $22.78, and there is a $5 coupon to drop the price to $17.78!
Right now, you can get Gatorade on sale for as low as $0.68 a bottle at Amazon. These are usually over $1 in stores on a good day, so this is the time to stock up! Like to have a variety of flavors on-hand? This Gatorade G2 Thirst Quencher Variety Pack 12 pack has three flavors – G2 Grape, G2 Fruit Punch, and G2 Glacier Freeze – so you don't get burned out with just one flavor. This is only $8.09 when you clip the 10% off coupon and select Subscribe & Save – only $0.68 per bottle.
Glacier Freeze is one of my favorite flavors, so I need to get this Gatorade G2 Thirst Quencher Glacier Freeze 12-Pack. There is a 10% off coupon you can clip for this as well, which makes your final price only $8.53 after coupon and Subscrive & Save discount. That's only $0.71 per bottle!
The Simply Brand Organic Doritos Tortilla Chips, Cheetos Puffs, 36 Count is only $15.18, and the $3 off coupon makes them $12.18 which comes out to only $0.34 per bag. It comes with Cheetos Puffs White Cheddar, Organic Doritos White Cheddar, Lay's Sea Salted Potato Chips, Cheetos Crunchy White Cheddar, and Lay's Barbecue Potato Chips. For a limited time, packs may not include Simply Cheetos Crunchy White Cheddar.
The HUGE Quaker Chewy Granola Bars 58 Count Boxes are $11.39, plus there are 20% off coupons which make them only $9.11! That is just $0.16 per granola bar!
Right now, you can get this 36-count pack of Cheez-It® Cheese Single Serve Bags for just $8.04 when you choose Subscribe & Save. That's only $0.22 per bag!
Check out all of the deals in the Subscribe & Save store because there is so much more you will love to save on right now!
One of the things I'm doing more of this year is Shopping Online! I LOVE Amazon Subscribe and Save and I'm going to try to hit my 5 items per month each month so that I can take advantage of the 15% Subscribe and Save Discount each month!
Here are a few tips for saving 15% With Subscribe and Save:
1. You can increase your Subscribe and Save Discount from 5% to 15% when you order 5 Subscribe and Save items in the same month.
2. Check your Subscribe and Save Shipment Date in your account, Mine is the 6th of each month, so I just have to buy 5 Subscribe and Save Items before that date and they will automatically increase my discount from 5% to 15% when I order my 5th item.
3. You do not have to order all 5 items at one time, but it's sometimes easier that way! You can also order more than 5 items per month and every item over 5 also gets the 15% discount!!! See all the Subscribe and Save Items Here.
4. Set your Delivery Time Frame to 6 months on each item, You can cancel at any time under "My Account, Manage Subscribe and Save" and that gives you plenty of time to decide if you want the item shipped again!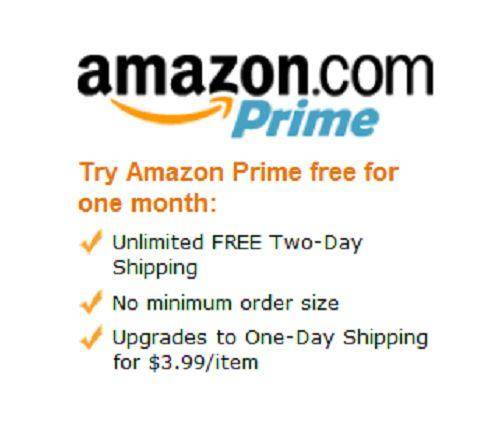 Right now you can grab a FREE 30 Day Trial to Amazon Prime and get Free 2 Day Shipping on thousands of items sold by Amazon.com.
Plus, don't forget to checkout the Amazon Deals Page for all the latest Amazon Deals!
Pricing subject to Change at any time. Please make sure you check the current price on Amazon.com before purchasing.