I swear, my kids grow an extra stomach during the Summer! I have to save every dollar on snacks that I can, and that is really easy with Amazon Subscribe and Save! It's so simple to use, and I always get a great price which is the most important thing ;) I want to show you how you can Save on Summer Snacks for Kids with Amazon!
Summer Snacks for Kids
These are some of my personal favorites that I get for my kids! Remember that when you Subscribe to 5 items in the same month, you get another 15% off all of it!
Get these Cheez-It Original Baked Snack Cheese Crackers – Single Serve School Lunch Snacks (Case contains 40 Count) on sale for as low as $11.06 when you opt for subscribe & save! That means each pouch is only $0.27!!
Oh these are so good!! You can grab these super popular Stretch Island Fruit Leather Snacks Variety Pack, 0.5 Ounce, Pack of 48 for $13.53 with subscribe & save! Just $0.28 each!
I love these for myself :) The Sensible Portions Garden Veggie Straws 24 Packs are down to $18.10 with subscribe & save which comes out to $0.75 each.
Who doesn't love these?! The Doritos Cool Ranch 40 ct. pack is $17.08 with subscribe & save! That comes out to $0.42 per bag!
Amazon has this Annie's Organic Bunny Snacks, Variety Pack with 36 Pouches priced at $11.29 which comes out to $0.31 per snack! That's cheaper than the Walmart price ;)
Here is a great healthier treat! The Bare Baked Crunchy Apple Chips 24 ct. Pack is priced at $22.99, making them only $0.96 per pouch!
Grab the Ritz Creamy cheese and peanut butter, Variety Pack, 32 Snack Packs for $12.79 plus there is a $3 off clippable coupon + subscribe & save brings your price down to $9.15! That is only $0.28 each!
Keep those kids with lots of energy going! The Orgain Organic Kids Protein Nutritional Shakes 12 ct. pack is on sale for just $17.09 when you add using subscribe & save making them just $1.42 each!
Carbonated water is a great alternative to soda! Get this PERRIER L'Orange Flavored Carbonated Mineral Water 30-Pack for $15.08 with subscribe & save. Just $0.50 each.
We really love these Nutri-Grain Soft Baked Breakfast Bars, 3 Flavor Variety Pack, Whole Grain Snacks, Kids Snacks (32 Bars) for $13.29 with subscribe & save. Just $0.41 per bar!
Check out all of the deals in the Subscribe & Save store because there is so much more you will love to save on right now!
One of the things I'm doing more of this year is Shopping Online! I LOVE Amazon Subscribe and Save and I'm going to try to hit my 5 items per month each month so that I can take advantage of the 15% Subscribe and Save Discount each month!
Here are a few tips for saving 15% With Subscribe and Save:
1. You can increase your Subscribe and Save Discount from 5% to 15% when you order 5 Subscribe and Save items in the same month.
2. Check your Subscribe and Save Shipment Date in your account, Mine is the 6th of each month, so I just have to buy 5 Subscribe and Save Items before that date and they will automatically increase my discount from 5% to 15% when I order my 5th item.
3. You do not have to order all 5 items at one time, but it's sometimes easier that way! You can also order more than 5 items per month and every item over 5 also gets the 15% discount!!! See all the Subscribe and Save Items Here.
4. Set your Delivery Time Frame to 6 months on each item, You can cancel at any time under "My Account, Manage Subscribe and Save" and that gives you plenty of time to decide if you want the item shipped again!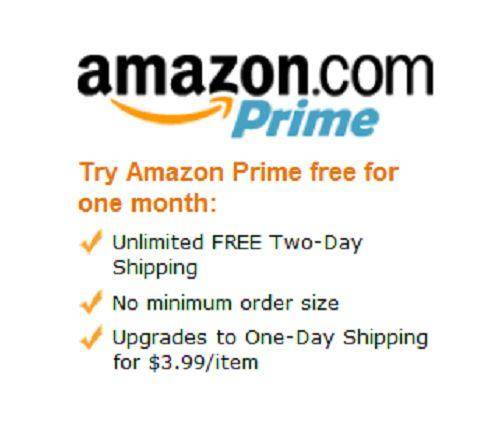 Right now you can grab a FREE 30 Day Trial to Amazon Prime and get Free 2 Day Shipping on thousands of items sold by Amazon.com.
Plus, don't forget to checkout the Amazon Deals Page for all the latest Amazon Deals!
Pricing subject to Change at any time. Please make sure you check the current price on Amazon.com before purchasing.