Dress up your dinner table with Easter dinner side dishes that will be colorful, light and comforting down the last drops. I have gathered a nice assortment of Easter dinner side dishes you might want to whip up for your family this holiday.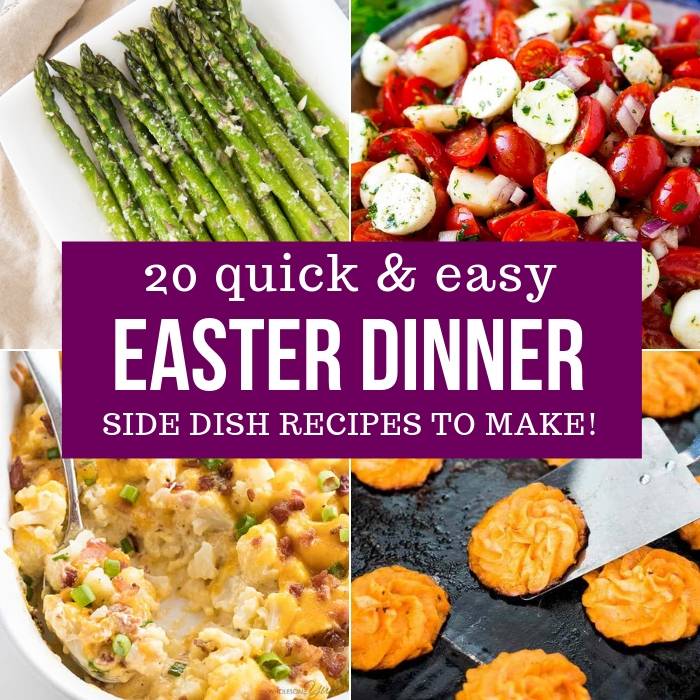 Lunch or an elegant dinner these Easter side dishes will fit right into your menu plan. Scroll through the list and add some tasty options to your meal plan.
Celebrate Easter In More Ways
Delicious And Easy Easter Dinner Side Dishes
1.) Caramelized Sweet Potatoes 
Give this sweet potato recipe a try for that sweet and savory component. I love diced sweet potatoes that have a slightly crunchy skin.
2.) Corn on the Cob in Slow Cooker 
It is really easy to make corn on the cob in your slow cooker. This is a great way to free up your stove for other dishes that need to be cooked.
3.) Potato Poppers 
If you are wanting potatoes but want to stip the classic mashed potato, give these poppers a try. A potato that is filled with a creamy and cheesy mixture that is absolutely addictive.
4.) Honey Glazed Carrots from Delicious Meets Healthy
Skip canned carrots and make honey glazed carrots that offer sweetness in every bite. A simple side dish that will really add a pop of color to your table.
5.) Fresh Vegetable Salad from Bake Me Some Sugar
Crisp vegetables in a homemade celery dressing that will be refreshing down to the last bite. A really easy make-ahead salad to serve up on your Easter dinner.
6.) Easter Bunny Breadsticks from Plated Creations
Breadsticks are always a welcome side dish. These rolls are made into little Easter bunnies, which fits the holiday perfectly.
7.) Sweet Potato Puffs from Tastes of Lizzy T
Here is another option for sweet potatoes, these puffs are light and fluffy, and offer an elegant presentation value. A little bit of prep work goes into these rounds, but it is totally worth it.
8.) Butter and Garlic Green Beans from Baking Mischief
Bright green in color and bursting with vibrant flavors is what you get in this green bean recipe. Rich butter and garlic come together for one incredible Easter side dish.
9.) Coleslaw from Bake Me Some Sugar
Coleslaw is always a refreshing cold side dish. Another make-ahead salad that can be served and dished up in a hurry. Tangy, creamy and crunchy.
10.) Roasted Rainbow Carrots from Plated Cravings
Brown butter and maple roasted rainbow carrots. If you have never made rainbow carrots boy is it a glorious experience. They taste amazing but the color they bring to the table is incredible.
11.) Baked Artichoke Hearts from The Life of Jolie
If you are a fan of artichokes try this bake! It is so simple to whip up and toss in the oven. The crunchy topping is a nice added treat and adds a tasty element of flavor in every bite.
12.) Oven Roasted Asparagus from House of Nash Eats
Garlic, parmesan, and lemon come together in this oven roasted asparagus recipe. It is such a savory side dish, that is a classic for any Easter table.
13.) Parmesan Orzo from Baking Mischief
A starchy side but it does taste amazing paired to chicken, turkey or even ham. This comes together with minimal prep for that cheesy and creamy Orzo side you are hoping to get out of it.
14.) Cauliflower Casserole from Wholesome Yum
If you are looking for a lower carb side, whip up this cauliflower casserole. Hearty, savory, cheesy and a nice lower carb option that will fill you up and satisfy.
15.) BLT Pasta Salad from Salty Side Dish
This refreshing pasta salad is the perfect satisfying side to add to your table. Tender pasta, salty bacon, and the classic BLT ingredients.
16.) Corn Casserole from Tastes of Lizzy T
Five simple ingredients is all you need for this corn casserole recipe. It could easily remind you of what your grandma used to make. So simple and before you know it you have a warm dish to serve up.
17.) Mashed Potatoes with Cream Cheese from Salty Side Dish
Looking for that silky and velvety tasting mashed potatoes? This is the recipe for you then. Cream cheese is added for that rich and creamy texture that will leave your guests reaching for seconds.
18.) Parmesan Zucchini And Tomato Au Gratin from Delicious Meets Healthy
A vegetable side dish that is creamy, hearty and savory. The layered au gratin gives a really elegant look but is so easy to assemble anyone could do it.
19.) Cherry Tomato Salad from Dinner at The Zoo
Grab some fresh tomatoes and make a really light and refreshing salad you can serve up. Prep this ahead of time and toss in the fridge until you are ready to serve.
20.) Oven Roasted Mushrooms from The Kitchen Girl
Have you ever tried making mushrooms in the oven? It offers a unique texture that can't be beaten, and the ease of these is a breeze. Give this mushrooms recipe a try today!
What is your favorite Easter side dish recipe?