Check out this super easy Potato Poppers Recipe for a crowd favorite Appetizer!
This Potato Poppers Recipe is not only the perfect appetizer but they are also the perfect side dish, and I find myself making it every single time + they are also freezer friendly so my friends I'm pretty sure this is the recipe to win all side/appetizer recipes of the world. Plus, here are even more of my favorite Appetizer Recipes!
These Potato Poppers are soft and tender potatoes filled with cream cheese, sour cream, cheddar, garlic, and parsley and then baked until soft and bubbly and melty. They are also bite-sized which is awesome in my opinion and are just so filled with flavor and so crowd favorite (even the extra picky eaters like them!) that I just can't have enough of them.
If you are thinking that making a ton of bite-sized potato poppers is a pain, don't! It's actually really quick, and really easy and really fast and the kids love helping to stuff them so that's great as well, but let's talk about my favorite part.
You can actually do the whole boiling, cooking, mixing and stuffing at once when you are meal prepping (or appetizer prepping) and then freeze them. Once you are ready to serve them, just pop them in the oven for 30 minutes and voila! Hands off appetizers or side dish done!
I like to keep them simple and to the point after all what else you need when you have cheese + baked potatoes + parsley? In my opinion nothing else, but you can also tuck in there some crispy bacon, some chili or even a bit of pulled pork.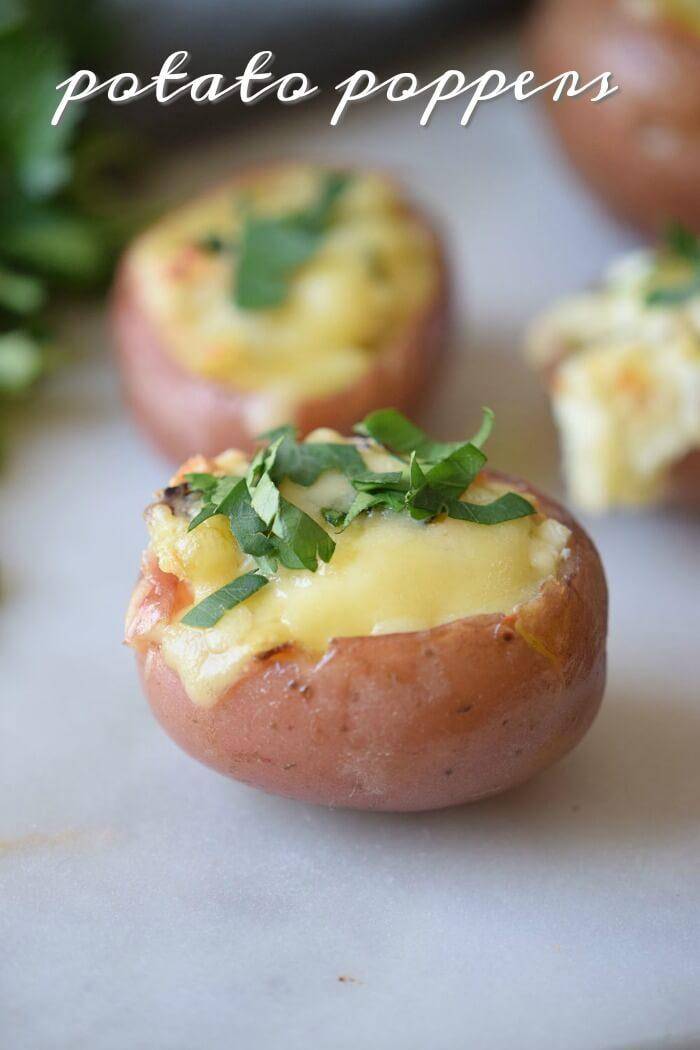 If you are feeling extra creative, you can even grab all the leftovers that are sitting in your fridge, mix them with all the cheeses and sour cream and use that to fill your potato poppers.
Trust me when I say that you'll find yourself making this for every dinner party, gathering, get-together or holiday you are hosting or attending, and also trust me when I say that every single person is going to ask for the recipe.
Potato Poppers
These Potato Poppers have it all: Delicious? Check! Customizable? Check! Easy to do? Check! Crowd pleasers? Check! Freezer friendly? Check!
Ingredients
1 Pound small potatoes
¼ Cup sour cream
½ Brick cream cheese
¼ Cup cheddar cheese, shredded
1 Garlic clove, minced
⅛ Cup parsley, chopped
Salt and pepper to taste
Instructions
Preheat oven to 350F.
Boil the potatoes in a pot until they are tender.
Set them aside to cool down and remove part of the potatoes with a spoon. (You can either discard or save the part you scoop out to eat another time)
In a bowl, mix the sour cream, cream cheese, cheddar cheese, and minced garlic.
Fill the potato skins with the cheese mixture.
Place the potatoes on a greased baking tray, and add the salt and pepper on top.
Take to the oven for 20-30 minutes or until the cheese melts.
Garnish with parsley.
Serve and enjoy.
I hope you enjoy this recipe as much as we do for an Appetizer or Side Dish Recipe! Another dish that would pair well with these potatoes is this Spinach Dip Recipe! Mmm!
"Make sure you check out our Saving Money Blog and also our How to Coupon Page for more tips, tricks and videos on saving money and using coupons.
Make sure you Follow Me on Pinterest!
"