Copycat Olive Garden Minestrone Soup Recipe! The BEST Homemade Olive Garden Soup Recipe and Easy Crockpot Fall and Winter Slow Cooker Dinner Meal Plans!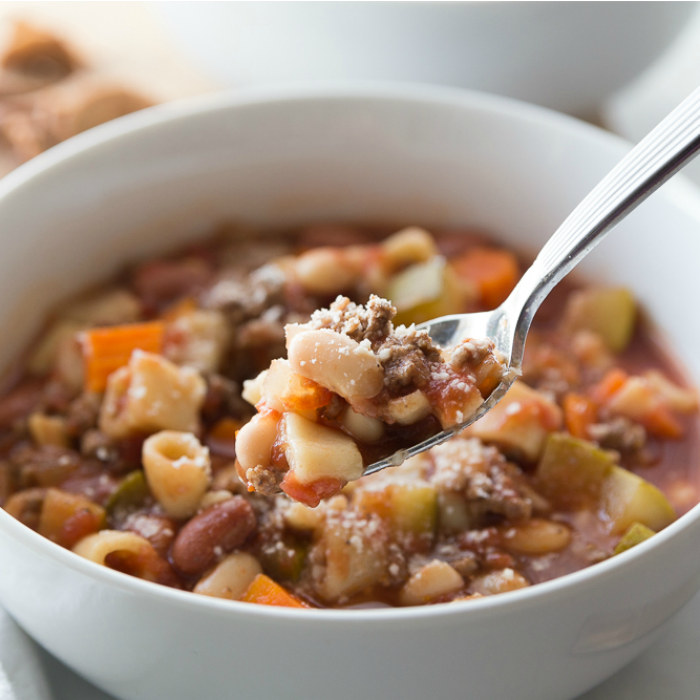 This Copycat Olive Garden Minestrone Soup Recipe is one of our FAVORITE Crockpot Meals for Fall and Winter!
If you love easy, family friendly slow cooker recipes, this one is for you! It's got all of the flavors you love from Olive Garden that you can make right from your own home! Want to make the meal complete? Here is a Copycat Olive Garden Breadsticks Recipe and other favorites too!
Plus, be sure to try this Copycat Olive Garden Salad Dressing Recipe! It's one of my personal favorites and really brings your homemade salad to life!! Mmm!
Looking for more family friendly, easy crockpot soup recipes? Here are some you can try!
One of my favorite things about this Copycat Olive Garden Soup Recipe is that if cook my meat ahead of time and it's ready to go in the freezer, this recipe really takes no prep time at all! I am a HUGE fan of buying meat in bulk when I find it on sale and cooking it before I store it away in my freezer! Here's How to make Ground Beef in the Crockpot to save time AND money!
Copycat Olive Garden Minestrone Soup Recipe
Ingredients
1 lb Ground Beef
2 Tbsp Olive Oil
1/2 tsp Salt
1 tsp Black Pepper
1/2 Medium Onion, Diced
8 oz Carrots, Diced
1 Medium Zucchini, Diced
2 tsp Minced Garlic
32 oz Carton of Low Sodium Beef Broth
28 oz can of Crushed Tomatoes
15 oz can of Kidney Beans, Drained
15 oz can of White or Cannellini Beans, Drained
1 Cup Uncooked Ditalini Pasta
Instructions
In a skillet heat Olive Oil and Brown Ground Beef while stirring frequently.
Remove From Skillet and Drain Fat.
Place Ground Beef, Salt, Pepper, Carrots, Zucchini, Garlic, Tomatoes, and Beans in a Slow Cooker
Slowly add the Crushed Tomatoes and the Beef Broth
Cook on High for 4 Hours or Low for 6-8 Hours
Add in Pasta and Cook another 30 minutes until Pasta is Al-Dente
Mmm! This recipe is SO good! I hope you and your family enjoy it as much as we do!
I am SO ready for cooler weather, and crockpot soup recipes! They just scream homemade comfort food to me!