This No Bake Milano Cake is such an easy dessert for summer or any occasion, really! With only a few ingredients, the Milano cookies take center stage in this quick and refreshing dessert! I really love making no-bake desserts when the weather is warmer so the house isn't heated up by the oven. And, this no bake cake comes together really quickly, so I have more time by the pool instead of in the kitchen!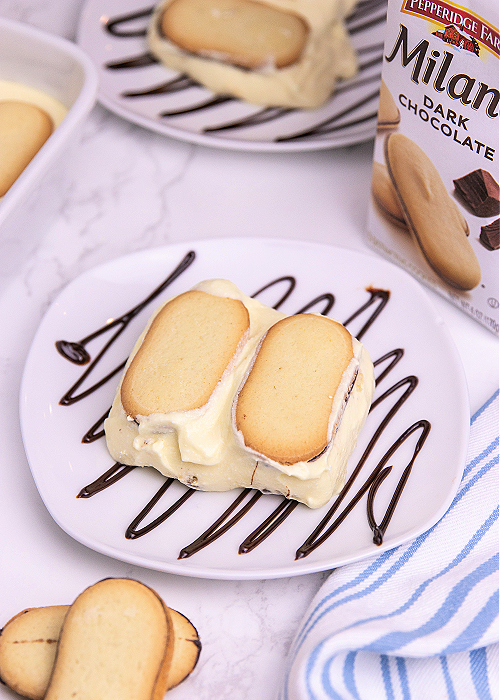 No Bake Dessert Recipes
If you're a fan of no-bake desserts like I am, you can check out these other favorites like No Bake Twix Pie, No Bake Peanut Butter Cup Cheesecake, or No Bake S'Mores Krispie Treats. Here is also a HUGE list of 20 No Bake Desserts that you are sure to love!!
Instructions
I have a recipe card at the bottom of this page if you'd like to skip ahead to the recipe. But, some people really like the step-by-step pictures and detailed directions, so you can follow along as you make this! I love this Milano Cookie Cake and you will, too!
First, you'll make the filling for the No Bake Milano Cake, which is so easy to do! In a large mixing bowl, whisk the pudding and milk together for 2 minutes. You can use a hand mixer or just a whisk. I have tried both methods with different recipes and both work equally well! I like to let the pudding sit for five or so minutes to set up before starting the next step, but you don't have to if you're in a hurry. Gently fold in the Cool Whip and you're done with the filling!
Place the first layer of Milano cookies into the bottom of a 9×13 baking dish. Next, spoon all of the filling onto the cookies for you No Bake Milano Cake.
Cover the filling with the second layer of Milano cookies and your No Bake Milano cake is complete!
Personally, I find this No Bake Milano Cake tastes even better after it has chilled overnight. The cookies get a bit softer, it's easier to cut, and the flavors mingle. But, if you're in a rush to serve it (or if you make it at the last minute before a party or something like that!), it's just find and everyone will love it just the same.
Do I have to use vanilla pudding?
I prefer vanilla pudding in this No Bake Milano Cake, so another flavor doesn't overpower the cookies. But, I am sure chocolate pudding would be great! Or, if you try using the Mint Milano Cookies, maybe a chocolate mint pudding would be delicious, too!
What brand are Milano Cookies?
Milano cookies are made by Pepperidge Farm. If you're using grocery store pick up, sometimes you have to type out the entire brand when trying to find an item to add to your cart or the search will show them as out of stock! But, if you'll type in the full name of the cookie, you'll be sure to find them at your favorite online shopping grocery store!
Are Milano cookies Italian?
Actually, since Milano cookies are made by a US company, they are not technically Italian. They were created by Pepperidge Farm in 1956, BUT they are indeed based on an Italian-style cookies!
I hope you like this recipe for No Bake Milano Cake! Let me know if you try to make it for your family!!
No Bake Milano Cake
This layered no-bake dessert can be made in less than 20 minutes! Everyone loves Milano cookies and now you make them into a cake!!!
Ingredients
4 packs Milano chocolate cookies
1 large instant vanilla pudding mix
3 cups 2% or vitamin D milk
8 oz. Cool Whip, thawed
Chocolate syrup, optional
Instructions
In a large mixing bowl, whisk the pudding and milk together for two minutes. Let sit for 5 minutes to set up, if desired.
Gently fold in the Cool Whip.
In a 9x13 baking dish, place one layer of Milano cookies to form the bottom layer of the no bake cake.
Spoon the filling on top of the cookie layer and spread evenly over them.
Place another layer of Milano cookies over the filing and gently press each cookie down.
Chill for two hours before serving.
The Milano No Bake Cake may be stored in the refrigerator for up to six days without getting too soggy!
Notes
If desired, you can drizzle chocolate syrup over the cake before serving or you can garnish the plate by adding a zig-zag of syrup on the plate before plating the cake.
Nutrition Information:
Yield:

12
Serving Size:

1
Amount Per Serving:
Calories:

170
Total Fat:

9g
Saturated Fat:

6g
Trans Fat:

0g
Unsaturated Fat:

2g
Cholesterol:

9mg
Sodium:

169mg
Carbohydrates:

21g
Fiber:

0g
Sugar:

19g
Protein:

3g