Have you tried sprite biscuits? 4 ingredients are all it takes for pillowy, buttery, homemade biscuits. Make a small batch or larger batch if you would like! You also might know these biscuits by the name of 7Up biscuits.
No matter which lemon lime soda you reach for this biscuit recipe is a hit! Pair with a sausage gravy, spread on some of your favorite jam, and more.
Sprite Biscuits
Sour cream and Bisquick come together to help give these biscuit depth, fluffiness, and of course incredible flavor. We are a sucker for these homemade biscuits. If you are looking for a simple recipe, give this version a try.
Why Make Sprite Biscuits
Just 4 ingredients needed
Easy
Minimal effort needed to make
Bakes to a golden brown top
Use for a side dish, to top with sausage gravy, etc.
How to Make Sprite Biscuits
The full directions for these Bisquick sprite biscuits is in the printable recipe card below. This is a quick overview of how to make biscuits.
The first thing to do is to preheat the oven and grease pan. Then begin mixing up the biscuit dough in a bowl.
Once done, roll out on some Bisquick on the counter to knead the dough just until it is able to form biscuits.
Pour melted butter into the dish, top with biscuits, and bake till golden brown. Once done let cool just a minute or two then serve up!
Ways To Serve Up Bisquick Sour Cream Biscuicks
As a side dish to dinner
Biscuit and Gravy
Butter and Jam
Topper for a casserole (think pot pie style with biscuit topping)
Pair with baked beans for dipping
Etc

Storing Leftover Biscuits
I found that storing these biscuits is best in the refrigerator. They will spoil pretty fast if left on the counter. Just place in an airtight container and refrigerate for 2-3 days.
Reheat in the oven or microwave if you would like. The Sprite Bisquick biscuits will dry out fast, that is why I don't recommend storing them for too long.
You can freeze the biscuits, just allow them to fully cool then freeze for 2-3 months.
Can I Double This Recipe
Absolutely! If you want you can double this recipe, go right ahead. Just use a 9×13 pan instead of an 8×8 pan. It will work just as well, and if you want to have extras on hand or serving a larger crowd that will work.
Does the Butter Soak Into The Biscuits
The butter will soak into the biscuits really well! This is going to add an incredibly moist texture and buttery flavor. If you enjoy butter you will really like these simple biscuits.
Here Are More Delicious Recipes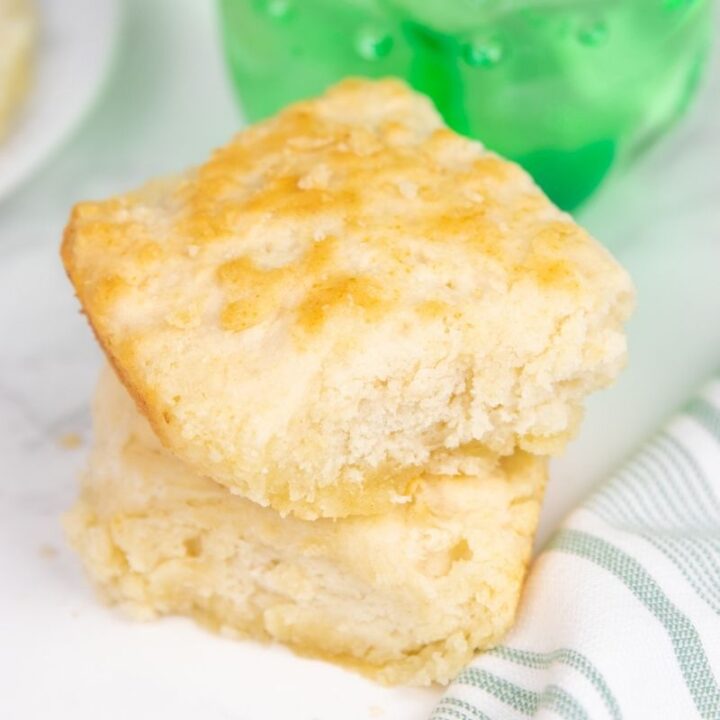 4 Ingredient Sprite Biscuits Recipe
4 Ingredient Sprite Biscuits Recipe is so easy to make. Buttery, fluffy, and soft biscuits are one of my favorites. A simple Bisquick sour cream biscuit recipe.
Ingredients
2 Cups Bisquick Baking Mix
¾-1 cup Bisquick Baking Mix for kneading dough
½ cup Sour Cream
½ cup Sprite
¼ cup Melted Butter
Instructions
Preheat oven to 450 degrees. Combine baking mix and sour
cream in a medium-size mixing bowl by mixing together with a fork or pastry
cutter. Add Sprite and mix. The dough will be very soft.
Sprinkle an additional ¾-1 cup baking mix on a flat surface and knead the dough just until coated and able to be formed into a biscuit. You might need to coat your hands with the baking mix, too, to keep the dough from sticking. Pat the dough out and cut with a round cookie cutter or the lid of a glass.
Tip: If you would rather, divide dough into four equal pieces and pat into a flat circle shape. That works fine, too! Melt the butter into the bottom of an 8" or 9" square glass pan and set the biscuits directly into the butter.
Bake for 12-15 minutes or until the bottoms start to turn golden and a few golden spots appear on the tops.
Note: these biscuits are enormous!! You can make them any size you like
and make nine small biscuits instead of the four larger ones. They will expand
to fill the shape of the pan, so they'll be square-shaped. That is to be expected!
Notes
Tip: These would be a great base to create breakfast
sandwiches on, since they already fit perfectly in a pan.
Nutrition Information:
Yield:

8
Serving Size:

1
Amount Per Serving:
Calories:

519
Total Fat:

27g
Saturated Fat:

11g
Trans Fat:

0g
Unsaturated Fat:

14g
Cholesterol:

25mg
Sodium:

1081mg
Carbohydrates:

62g
Fiber:

2g
Sugar:

10g
Protein:

7g
Let me know how you like these Sprite biscuits!