Create a special place for your child to store all their valentines they might get in a fun and creative way. I have created a nice size list of fun Valentines Day Boxes your kids will be gushing over. These Valentines Day Box Ideas are easy and will be an instant upgrade for the holiday fun.
Exchanging homemade cards and valentines has always been something my family enjoys. Whether your child is in school or not, you might find this craft to be a perfect fit for Valentine's Day. Grab the glitter, glue, and other supplies and get to crafting.
More Valentine's Day Goodies
The Best Valentines Day Boxes For Kids
1.) Unicorn Valentines Day Box
Swoon instantly at the site of this colorful and fun Unicorn inspired box. With a handful of supplies needed, your child can create a one of a kind unicorn in no time.
2.) Robot Valentine Box Idea from Making of A Mom
Here you have a robot that will take you to a whole new universe on the coolness factor! With a little time, you can have one outstanding and unique box to stuff in your valentines.
3.) Taco Valentine Card Box from Artsy Fartsy Mom
Oh boy, is this taco inspired valentines day card box adorable or what? If your kiddo loves tacos than this is a must make card box.
4.) Cactus Valentine Box from The Celebration Shoppe
How adorable is this cactus? I mean come on, this takes the cake on being creative. If you have a Cricut or Silhouette machine this is a wonderful valentine box idea.
5.) Panda Love Card Box from Artsy Fartsy Mom
Pandas are so fun and this love box is such an outstanding idea. Not much work goes into but the payoff is fabulous.
6.) Birdhouse Valentine Box from Happiness is Homemade
I love the idea of using your Cricut to get a truly out of the box idea for your valentines day box. I think any little kid would love to have one of these to stuff their valentines into.
7.) Heart-Shaped Box from Fun Money Mom
I love the bright colors of this heart-shaped box. It screams Valentine's Day and doesn't take too much work to make. The perfect way to showcase your valentines.
8.) Monster Valentine's Day Card Box from Frog Prince Paperie
I never knew monsters could be so cute?! Boys and girls both will be begging to make this fun and silly monster that will eat up all your valentines for safe keeping.
9.) Rubick Cube from Peppermint Plum
A classic game that might take you back to your childhood. Truly one of the most unique Valentine boxes yet! If you have a somewhat older kid they might really enjoy this one.
10.) Rocket Valentine Card Box from The Joys of Boys
Take off into space with this epic rocket inspired valentine box. Boys will love this creative little box to stuff all their loving and fun valentines in.
11.) Mailbox Valentine Box Idea from Lily Ardor
What a fun idea to give the valentine box a classic 'mailbox' look. With a little cardboard, paint and some supplies, you too can have your own mailbox.
12.) Cupid Box from Klein Worth Co
Maybe you don't want the traditional valentine box, check out this fun cupid box. I think I know a handful of kids who would love this idea vs a more traditional box.
13.) Bumble Bee Valentine Box from Life With Fingerprints
Here you have a really creative way to take a plastic container that you transform into a bumble bee. Grab that construction paper and spend some time making this bee.
14.) Pom Pom Heart Box from Design Improvised
Check out this pom pom filled heart that is going to scream drop those valentines in me! So simple to make and such a festive card box that will put a smile on anyone's face.
15.) Pink Ruffle Cake Box from Craft That Party
If you have a round box, you can transform it into a pink ruffle cake box. Colorful, pretty and such a dainty and colorful pink cake box.
16.) Cat Box from Pretty Plain Janes
Here is another great box that uses a round box to get transformed into a furry kitty in minutes. I love how simple of a design this is.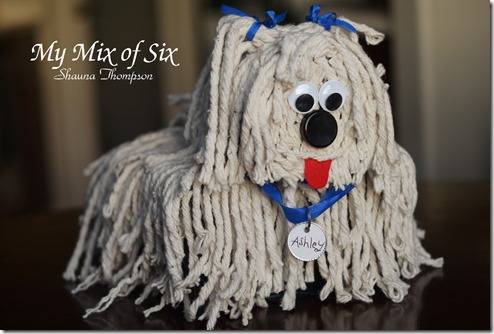 17.) Shaggy Dog Valentine Box from My Mix of Six
Maybe a cat isn't your thing, then check out this super adorable and enjoyable shaggy dog valentine box. I love how real this doggy box looks like.
18.) Bullseye Mailbox Valentine from Homemade Interest
I think this is such a wonderful idea, I love the bullseye take, and in the heart of the shape. Fits right into Valentine's Day instantly! Plus easy enough kids can have fun helping.
19.) Purple Minion Valentine Box from The Joys of Boys
If you are a fan of Minions or Despicable Me, you have to try this incredible Valentine's Day box! I love this purple guy, he would be epic for stuffing in your holiday cards.
20.) Alligator Affirmation Box from Crayon Box Chronicles
Look out for this incredible alligator. With a box and some egg cartons, you can totally transform it into an adorable and sassy alligator that will gobble up all those valentines.
Do you make a homemade Valentine's Day box for your kids?