Consider whipping up this make-ahead spinach and tomato tortellini bake recipe. A creamy and cheesy tortellini bake that is a simple yet delicious dinner for the whole family. If you have some fresh or frozen tortellini on hand, create this casserole.
If you love tortellini, here are a few more recipes to try. Tuscan tortellini soup, baked tortellini with red sauce, or bacon alfredo tortellini.
Make Ahead Spinach and Tomato Tortellini Bake
This is a make-ahead dish that you can prep in the morning and store in the fridge until you are ready to bake. Then once you are home just toss right into the oven and heat it up for a super simple dinner. Or you can freeze for a meal later.
If you enjoy meal prepping on Sunday so you have meals for the week to reheat and enjoy. This is also a great dinner to meal prep and gift to loved ones or neighbors.
Great for expecting parents, healing from surgery, or a sick neighbor.
How to Make This Tortellini Bake
Sauce | In a skillet you will add your butter and let it melt. Now add in your garlic, flour, onion powder and cook for a minute. Make sure to whisk continuously or it will burn. Now slowly stir in the milk and cream, working out any lumps.
Decrease the heat to low, and let it simmer and it will begin to thicken.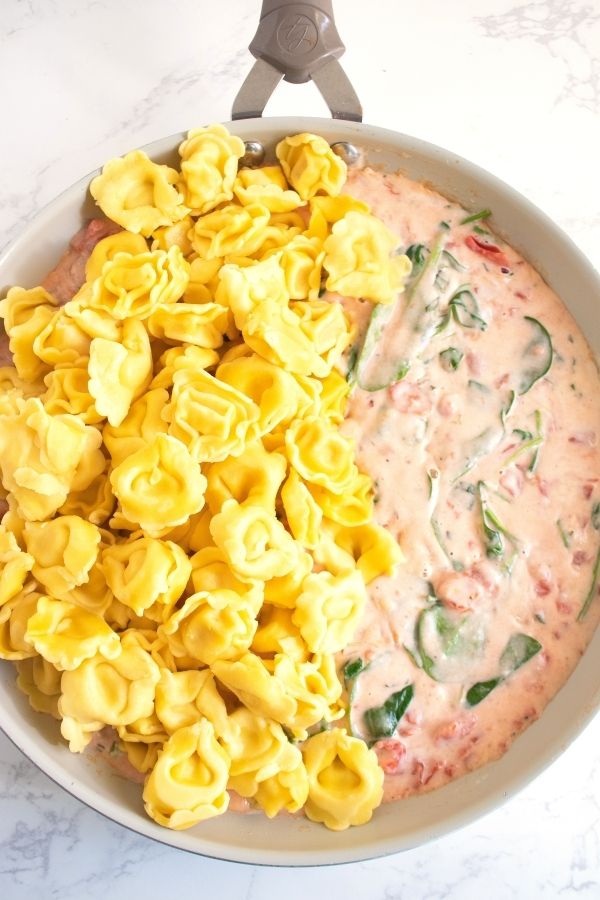 Stir In | Now you will add in the tomatoes, basil, oregano, spinach, and parmesan cheese. Season with salt and pepper. Once the spinach and cheese have melted you will remove them from the heat.
Tortellini | Now you will stir in the cooked tortellini. Mix until fully combined and stir into the casserole dish. Top with parmesan cheese.
Bake | Bake the dish until the cheese on top is melted. Remove and serve warm.
What Is The Best Tortellini To Use
Honestly, you can use refrigerated tortellini, dry, or even homemade tortellini. You need to make sure though you cook the tortellini as directed on the package. I personally prefer refrigerated tortellini. But, use whatever you prefer.
Variations To Creamy Tortellini
You could skip the homemade sauce and do an alfredo.
Use a different cheese to sprinkle on top to bake, mozzarella could be a delicious pairing.
Add in some diced or shredded cooked chicken.
You can use regular pasta instead of tortellini if you would like.
Want More Easy Pasta Recipes
What Do You Serve With This Pasta Dish
I like to serve with a caesar salad, breadstick, and call it good. Feel free to do a vegetable side dish or any other side you might want next to this pasta.
Make Ahead Spinach and Tomato Tortellini Bake Recipe
Make Ahead Spinach and Tomato Tortellini Bakeis a creamy and cheese tortellini that will win over the whole family. Cheese filled tortellini, homemade creamy sauce, and baked perfectly.
Ingredients
1 19 oz. package of refrigerated three cheese tortellini, cooked according to package instructions
3 tablespoons butter
3 garlic cloves, minced
3 tablespoons flour1 tsp onion powder
1 ¼ cups milk (2% or whole)
½ cup heavy whipping cream
1 14 oz can petite diced tomatoes (undrained)
1 ½ cups fresh spinach, packed
3 tablespoons fresh basil
2 teaspoon chopped fresh oregano
Salt and pepper to taste
Instructions
Preheat oven to 350 degrees. Melt butter in large skillet over medium heat.
Add garlic, flour, and onion powder and cook for one minute, stirring constantly with a whisk. Continue whisking, and slowly pour in milk and cream, then whisk until smooth.
Continue stirring constantly (and decrease the heat to medium low so the milk doesn't scald, if needed) until the mixture begins to barely simmer and thicken.
Then add tomatoes, oregano and basil, spinach, and parmesan cheese. Add salt and pepper to taste. Cook several minutes longer until sauce has thickened, even more, the spinach has wilted, and the cheese has melted.
Remove from heat and add cooked tortellini into sauce.
Mix together and spoon into a large casserole dish.
Add ½ cup parmesan cheese to the top and bake for 8-10 minutes until the cheese on top has melted. Serve warm.
Notes
***To make ahead, cook as instructed, but instead of baking
at the end, freeze instead. Then, bake before eating for 30-45 minutes or until
completely warm all the way through and cheese on top is melted.
Let me know how you enjoy this tortellini bake recipe.